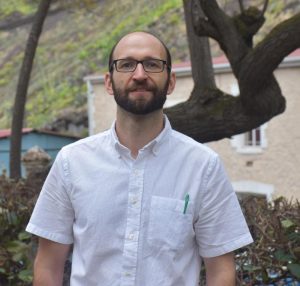 St Helena's new Pharmacist, Vlad-Dorin Cucuiu arrived at St Helena on Saturday, 30 June 2018.
Vlad has been appointed on a two-year contract and his main duties will include providing over-the-counter advice and prescribing to patients with minor ailments, ensuring  safe and clinical effective prescribing for inpatients and outpatients by liaising closely with medical and nursing staff, and reviewing the medication formulary and order before sending to suppliers.
Vlad commented:
"I have always been fascinated by the opportunity to work on St Helena as I am passionate about history. The beautiful landscape and the opportunity to make a difference as a Pharmacist on the Island drew me instantly to the position.
"I hope to continue the good work done by the pharmacy team through helping our patients to achieve more from their medications."
 Acting Director of Health, Helen Lawrence, added:
"The Health Directorate is delighted to welcome Vlad as the new Pharmacist.  Vlad is a well experienced Pharmacist and a valuable addition to the Health Team. We look forward to working with him and wish him every success in his role."
 Before coming to St Helena, Vlad had been working in the UK National Health Service.   Vlad finalised his Pharmacy Bachelor's Degree in 2005 in Romania and his Master's Degree in 2006. In 2015, Vlad completed his Psychiatric Medication Certificate and is currently working to finalise his clinical diploma.
 #StHelena #NewAppointment # Pharmacist
https://www.facebook.com/StHelenaGovt/
https://twitter.com/StHelenaGovt
 SHG
20 July 2018