Dr Rushbrook (photo attached) will be taking up his appointment in St Helena on Saturday, 4 May 2019, accompanied by his wife, Janis. He will be the 66th Governor and the first to arrive by air at St Helena airport to assume his post. As soon as is practicable during 2019, he is also aiming to undertake his first visits to Ascension Island and Tristan da Cunha.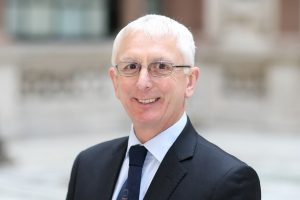 On his appointment, Dr Rushbrook said:
"I am honoured and excited to be coming to St Helena, Ascension and Tristan da Cunha at this unique period in the islands' histories. I recognise it is a time of lasting change as well as one of some uncertainty. I look forward to working closely with the governments and communities in St Helena, Ascension and Tristan da Cunha to build a confident view of the future for the islands' inhabitants, to make the most of the economic prospects available, and to safeguard their unique characters and natural beauty.
"On St Helena, I intend to support the government and the island to make the most of the possibilities offered by the airport, an emergent business sector, and the much anticipated arrival of the fibre-optic broadband cable.
"On Ascension I plan to assist the administration in clarifying the island's future direction, whilst taking a particular interest in getting the runway and infrastructure improvements completed as swiftly as possible.
"On Tristan da Cunha, maintaining international market access post-Brexit for its top-quality fishing, and helping to deliver a Marine Protected Area that ensures livelihoods and protects the unique ecosystem, will both be high on my agenda with the island administration."
Reflecting on her three years as Governor of St Helena, Ascension and Tristan da Cunha, Governor Honan added:
"I have really enjoyed my time living on St Helena and dealing with the territories of St Helena, Ascension and Tristan da Cunha. It has been a life changing experience for me in so many ways, both professionally and personally. And for each of the territories, I have been privileged to see them move forward in different ways and face the inevitable challenges of their remoteness with resolve, pragmatism, and flexibility. I have made some amazing friendships and met some incredibly committed people. I wholeheartedly wish each and every person in the three territories a successful future."
Councillor Christine Scipio, on behalf of Executive Council, concluded:
"On behalf of St Helena I would like to thank and congratulate Governor Honan for her most distinguished service as Governor of St Helena. We offer her and her husband Dave our affectionate good wishes for a happy but less hectic time in the period ahead.
"It gives me great pleasure to welcome Dr Philip Rushbrook as the new Governor of St Helena, Ascension and Tristan da Cunha. Myself and my fellow Elected Members look forward to working together to create a community of harmony, prosperity, and progress."
#StHelena #NewGovernor
https://www.facebook.com/StHelenaGovt/
https://twitter.com/StHelenaGovt
 SHG
4 December 2018