New Chief Inspector (Operations), Mike Miskell, recently arrived on-Island to take up his post in the St Helena Police Service. Mike arrived with his wife Jackie and daughter Victoria.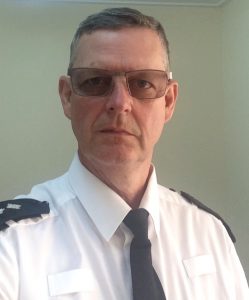 Mike said:
"I'm really looking forward to working on the Island. I hope to continue to develop the excellent work progressed by Steve Riley. In particular, I'm keen to expand and develop a training programme to further improve the St Helena Police Service. I also hope that my experience at Manchester International Airport will be of value to the Island's newly opened St Helena Airport."
Mike has 27 years of experience in policing and was previously a Chief Inspector with the Greater Manchester Police, with 10 years' experience in their Specialist Operations Branch.
He is a Tactical Firearms commander and Silver commander with experience in dealing with major events and incidents.
Mike has been awarded three Chief Constable Commendations, including two for dealing with major incidents at Manchester International Airport. He has been in charge of the Greater Manchester Police Training Branch's Tactical Firearms Section and was the Airport commander for Manchester International Airport.
#StHelena #StHelenaPolice #NewChiefInspector
https://www.facebook.com/StHelenaGovt/
https://twitter.com/StHelenaGovt
SHG
7 August 2018