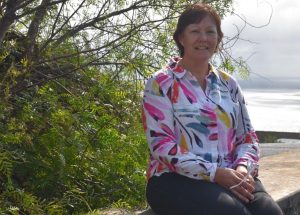 New Behaviour Specialist, Jeaninne Law, recently arrived on St Helena to take up her new role within the Safeguarding Directorate.
Jeaninne has been appointed on a one-year contract and her main duties are to reduce anxiety, risk and restriction to improve the quality of people's lives and their skills. Jeaninne intends to build on existing good practice and capitalise on the positive relationships the Adult Social Care teams have already fostered with the people they support.
Jeaninne commented:
"I have been to the Island before as it is my mother's birthplace – I am related to the Sim and Lawrence family.
"I feel privileged to have the opportunity to come to St Helena to connect with my family and hopefully do a good job."
Director of Safeguarding, Stephanie Jones, added:
"We very much welcome Jeaninne to the Safeguarding Directorate to work with those in our community who have complex behavioural needs. Jeaninne will use her considerable experience to work with existing projects and to support individuals both in residential care and in the community."
Jeaninne holds a Masters in Emotional & Behaviour Difficulties, and before coming to St Helena, had been working in / with residential care and education settings across a range of sectors from young children to the elderly. For the last few years, Jeaninne has been working with a wide range of services in the UK to reduce risk and keep people and services safe. Jeaninne has also undertaken short contracts in Australia, United Arab Emirates and Hong Kong.
#StHelena #NewAppointment #Safeguarding #BehaviourSpecialist
https://www.facebook.com/StHelenaGovt/
https://twitter.com/StHelenaGovt
SHG
17 August 2018