Saint student, Louis Youde, is one of over 50 Commonwealth youth delegates aged between 18 and 29 who have assembled this week for the 9th Commonwealth Youth Parliament (CYP) hosted by the Commonwealth Parliamentary Association (CPA) and the States Assembly in St Helier, Jersey, Channel Islands.
The CYP is designed to demonstrate to potential future young Parliamentarians the fundamentals behind the processes of Parliament. It also gives participants a hugely valuable networking opportunity with other participants from across the Commonwealth as well as with current MPs who will act as mentors throughout the week.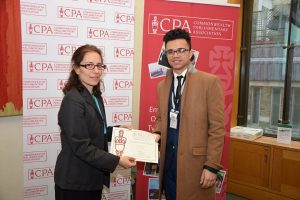 Louis, who is studying a BTEC Level 3 in Engineering and Further Maths at Chichester College in the UK, said:
"I will always jump at the chance to represent St Helena in any setting. I am forever telling people about our tiny Island in the middle of the South Atlantic Ocean and people are always fascinated to hear about life on the Island and current affairs."
The 9th CYP included a mock Parliament, in which delegates from all over the Commonwealth are split into Parliamentary parties – Government, Opposition and Independents. The parties put forward propositions which were debated on and voted for. Louis was chosen to be an Independent. Louis said after day one:
"I feel incredibly lucky to have attended this event. Learning about Parliament and politics is one thing, but actually getting to play a role within a Parliamentary setting is something else. I hope to learn more about how governments are run and how propositions are put forward and debated on. I am looking forward to the next two days of this experience and hope to learn as much as possible."
The CYP is one of the CPA's most popular programmes and brings together participants representing all nine CPA Regions.
Assistant Chief Secretary, Gillian Francis, said:
"The CYP presents a golden opportunity for our young St Helenians to learn more about Parliamentary practices and procedures and to network with delegates from the different Commonwealth countries. I am pleased that Louis was able to take time out from his studies to attend."
The 9th CYP was to be hosted originally by the House of Assembly of the British Virgin Islands in October 2017, before the devastating effects of the hurricanes which affected larger parts of the northern Caribbean.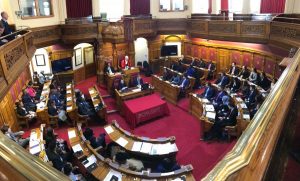 #StHelena #CPA #CYP9
https://www.facebook.com/StHelenaGovt/
https://twitter.com/StHelenaGovt
SHG
27 February 2018