The following is a Public Announcement from the Roads Section:
Following an accident on Ladder Hill Road last night, Thursday 30 August 2018, and subsequent damage to the barrier wall (see photo attached), Ladder Hill Road will remain closed to all vehicular and pedestrian traffic.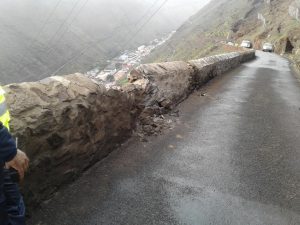 The Roads Section will remove the damaged section of wall by hand and assess the foundation and base before continuing to reconstruct the wall.
The time of completion will depend on the outcome of the Roads Section's assessment of the lower section of wall.
The public will be kept updated.
SHG
31 August 2018
https://www.sainthelena.gov.sh