As a round up to Education Awareness Week, each of the Island's four schools held their own UNESCO Teacher Appreciation Day assemblies on Friday, 5 October 2018.
The schools chose different times to host throughout the day to ensure the Director of Education, Shirley Wahler, Chair of the Education Committee, Cllr Christine Scipio, and other members of the Education Directorate could attend each assembly,
In the three Primary Schools, students of various ages took turns to perform acts, songs, and dance routines, all in honour of their teachers. Messages were read by students for their favourite teachers and thanks were given with every performance, recognising the hard work and dedication of all teaching staff.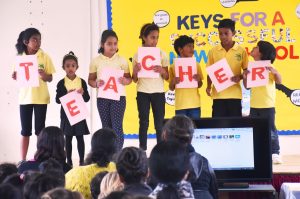 Teachers were treated with gifts and compliments by their school's PTA, students and colleagues. A cake, coloured to represent each Primary School – green for Harford, red for Pilling, and yellow for St Pauls – was also presented at each school.
At the end of each assembly, small speeches recognising the importance of teachers and appreciating what they do were given by Shirley Wahler and Christine Scipio. This was followed by the awarding of Long Service Certificates to those teachers who had dedicated over ten years of continuous service to education on St Helena.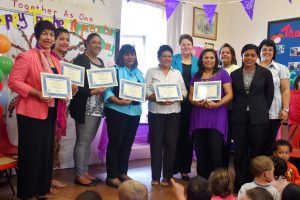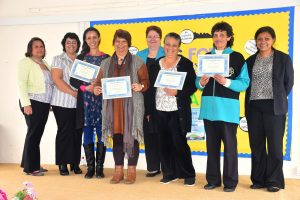 The final assembly of the day came from Prince Andrew School (PAS). For this assembly, all staff of the school was asked to sit at the front of the main school hall. The assembly began with a presentation from the school's senior students, giving thanks to the teachers and acknowledging their importance to both the academic and personal growth of the Island's children. The final part of the presentation included headshots of all the PAS staff from each department, much to the amusement of the students who greeted each photo with laughter, clapping, and cheers. A video then played with individual and groups of students recording messages to their teachers, including a French class saying thanks in French.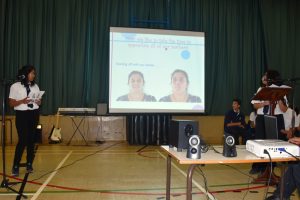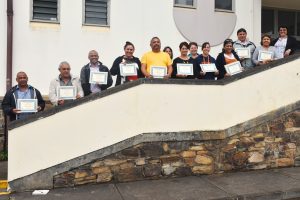 As with the Primary Schools, PAS received a cake coloured in blue to represent the school colour and Long Service Certificates were then presented to awardees in PAS, including to Valerie Yon for 44 years of service to education on St Helena – the longest service recognised on the day. This was followed again by short speeches from Shirley Wahler and Christine Scipio.
Christine said:
"Today is St Helena's fourth annual Teacher Appreciation Day. This gives us an opportunity to reflect on how much we owe to teachers and to those who work in our schools now and in the past. They are kind, patient, hard-working, dedicated, and play a critical role in educating and shaping the youth of St Helena, who are our future leaders.
"Teachers, thank you for everything that you do and for the contributions that you make to the entire community. Happy Teacher Appreciation Day!"
Staff of all schools were given a USB stick with a photo of St Helena and a quote from former President of South Africa, Nelson Mandela, which read: 'Education is the most powerful weapon which you can use to change the world'.
#StHelena #Education #EducationAwarenessWeek #TeacherAppreciationDay
https://www.facebook.com/StHelenaGovt/
https://twitter.com/StHelenaGovt
SHG
8 October 2018