The St Helena Sea Rescue Service recently welcomed back to the Island, Training Facilitator of the National Sea Rescue Institute (NSRI), Graeme Harding.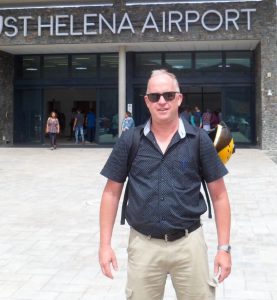 At the outset of the newly formed Sea Rescue Service, in July 2015, Graeme came to the Island to deliver the Initial Sea Rescue Coxswain training to members of the Sea Rescue team. He has now returned to further develop the skills learnt to the current team.
Graeme will deliver training to the Auxiliary Crew, who haven't yet attained their qualification as Rescue Coxswains, and also to reassess and certify a crew member for a 40 nautical mile Rescue Coxswain license.
During the training period, Graeme will also carry out an audit on the Sea Rescue Service's procedures to ensure the service is operating to a high professional standard.
Sea Rescue Manager, Simon Wade, said:
"It is a privilege to have Graeme back here with us at Sea Rescue and we look forward to the training in the coming weeks."
#StHelena #SeaRescueService #Training #NSRI
https://www.facebook.com/StHelenaGovt/
https://twitter.com/StHelenaGovt
SHG
4 December 2018