Assistant Chief Secretary (Performance), Paul McGinnety (photo attached), departs the Island on Saturday, 19 May 2018, having completed his contract with St Helena Government.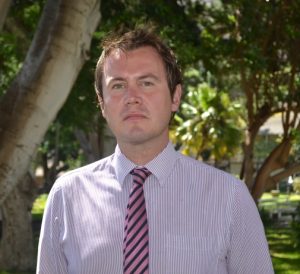 Paul arrived on St Helena in January 2013 as the Social Policy Planner, responsible for providing advice and social analysis input to SHG policy and developing and implementing a national Social Policy Plan to support the Island's Sustainable Development Plan and the overall vision of SHG.
During his five years on the Island, Paul has held a number of roles including interim Director of the Environment & Natural Resources Directorate and Acting Director of Safeguarding. Paul has also held the role of Public Guardian and has been a Director of the St Helena Hotel Development Company responsible for overseeing the construction and operation of St Helena's first 4 star Hotel.
Paul has also played a leading role in the Renewable Energy Procurement and Submarine Cable Projects and work on these will continue. Connect Saint Helena Ltd will now be responsible for working with the preferred contractor to deliver the Renewable Energy Strategy and a Project Board is being established to oversee and manage the delivery of the Submarine Cable project. The appointment of a replacement Public Guardian will be announced later.
Chief Secretary, Susan O'Bey, said:
"It really has been a pleasure to work with Paul these past five years. In addition to his work in SHG, both he and his wife Lindsay have made active and positive contributions to Island life. Lindsay through her art and her work with schools and local organisations, and Paul through his support for New Horizons and for sharing his love of sports in his weekly radio programme on Saint FM."
Following restructuring within Corporate Services, the majority of Paul's role in SHG will be taken over by Gillian Francis, whose post will be re-designated Deputy Chief Secretary.
#StHelena #Farewell 
https://www.facebook.com/StHelenaGovt/
https://twitter.com/StHelenaGovt
SHG
9 May 2018