Assistant Financial Secretary, Nicholas Yon, was this morning, Monday 8 January, sworn in as Acting Financial Secretary whilst the substantive Financial Secretary, Dax Richards, is on overseas leave.
Nicholas took the prescribed Oaths in the Governor's Office in the presence of Acting Governor, Louise MacMorran.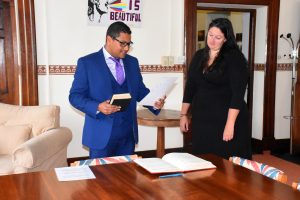 Nicholas' appointment is effective immediately.
Dax departed the Island on Saturday, 6 January, and is scheduled to return on Saturday, 27 January 2018.
#StHelena #ActingFinancialSecretary #SwornIn
https://www.facebook.com/StHelenaGovt/
https://twitter.com/StHelenaGovt
SHG
8 January 2018