International Nurses Day is celebrated on 12 May every year. It is used to recognise the work and contribution of Nurses all over the world. This year, we thought we would take a moment to introduce you to some of our current nursing staff to gain an understanding of what St Helena Nurses do. Nursing on St Helena is one of the most challenging roles, as the staff all have to be multiskilled and be prepared to deal with whatever comes their way. Nursing has been evolving and changing over the last few years, with Nurses expected to know more than ever before. Our Nurses are rising to that challenge.
Sarah Newman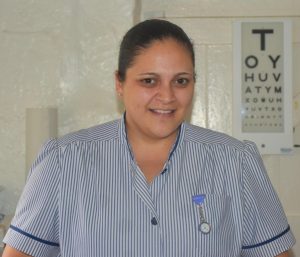 Sarah Newman is the Community Staff & Child Health Nurse at the General Hospital.
Sarah began her career as a youth trainee in January 2006. Eight months later, she enrolled in the Student Nurse Programme which lasted three years. She qualified in 2009 and started working in the General Hospital before transferring to Community Nursing in 2010.  Sarah took on her new role of Child Health Nurse in 2017.
During Sarah's career with the Health Directorate, she has undergone general Island training and courses. Recently, Sarah began an eighteen-month online degree, training with the University of Derby. Once Sarah has completed this course, she will have an internationally recognised degree, and will have gained more knowledge as well as an up-to-date understanding of how to keep her practice current and evidence based. Sarah chose the online route as training overseas would be difficult due to family commitments.
In addition to the role of Community Nurse, Sarah has also taken on-board the role of Child Health Nurse. This means Sarah is in a key position to detect any early issues, and to ensure that children and families get all the support they need early to improve child outcomes, before they are handed over to the School Nurse to be monitored until they leave school.
Sarah commented:
"Although Nursing was not my first choice of career, I have grown to love Nursing over the past 12 years and there are many things I enjoy about being a Nurse. The work I do, even the unpleasant parts like giving babies injections, the team I work with in Community Nursing, and the appreciation and gratitude I get from the patients when they are happy with my care."
Sue-Ellen Henry
Sue-Ellen Henry is a Staff Nurse within the General Hospital.
Sue-Ellen became a qualified Nurse back in 2012, and is currently undertaking an eighteen-month Bachelor of Science (Honours) in Nursing Studies which will be completed in December of this year.  She is also training as an Anaesthetic Nurse and working towards becoming the Hospital Diabetic Nurse.
Sue-Ellen commented:
"The level of knowledge and skills, and the expectations of a Nurse have increased compared to Nursing in past years. Nurses are accountable for the care they deliver and must therefore be competent in their field of work. Nurses are now expected to think critically and to anticipate patient outcome, linking theory to practice.  All patient care must be evidence based with a holistic approach which means that Nurses are expected to keep up-to-date with the latest available evidence.  Nursing care has become more patient centred which is vital to ensure that high quality individualised care is delivered."
Sue-Ellen feels the best thing about being a Nurse is being able to meet and work with different people, both patients and a multidisciplinary team.  She explained that every day is faced with new challenges, and learning opportunities makes nursing a motivating and enjoyable job. The opportunity to progress to a specialist Nurse in an area of interest makes Nursing a great career.
Louisa Francis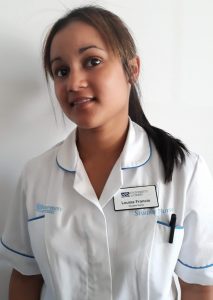 Louisa Francis is currently a Student Nurse and has been studying in the UK since September 2015. Louisa hopes to become a qualified and registered Staff Nurse by April 2019.
Since having the opportunity to study abroad, Louisa has had the privilege of gaining knowledge and experience in various placements throughout the UK. She has worked with community district nurses and in acute hospital settings which included both surgical and medical settings. Louisa has also undertaken exams and theoretical coursework at Derby University, which has helped her to become more confident and competent as a Student Nurse.
Louisa feels the role of a Nurse hasn't changed in the sense of looking after a patient holistically, however she feels that Nurses in today's society must have the knowledge and skills as well as a caring and compassionate approach that are in line with the Nursing and Midwifery Code of Conduct. Louisa also feels there is a lot more evidence based practice, so that patients are being looked after appropriately and accordingly.
Louisa commented:
"Being a Nurse is a rewarding job, because at the end of a shift you feel a sense of accomplishment in knowing that you did your best in helping those patients that you are responsible for in aiding their recovery. However, it is most definitely a tough job as well, because it can be quite overwhelming at times in certain circumstances.
"I am looking forward to returning to St Helena as I am excited to see the changes that have been made at the Hospital as well as working with the team who I have enjoyed working with in the past."
If you are interested in a career in Nursing and would like to learn more about the opportunities/ways to become a Nurse, please contact the Hospital Nursing Officer, Lisa Niemand, by tel: 22500 or via email: lisa.niemand@sainthelena.gov.sh
#StHelena #Nursing #GeneralHospital
https://www.facebook.com/StHelenaGovt/
https://twitter.com/StHelenaGovt
SHG
15 May 2018