CONSUMPTION RISING, RESERVOIR LEVELS DOWN SLIGHTLY
St Helena continues to suffer the effects of a lack of rainfall throughout 2016 and, with only approximately 11% of reservoir capacity filled, the raw water stock on the Island remains dangerously low.
As expected, water consumption increased slightly over the festive period. But, now that the holidays are over, it is important that we reduce our water use so that consumption rates can get back to normal.
Consumption Levels To Date
Consumption levels are indicated below, with the target level shown as an orange line.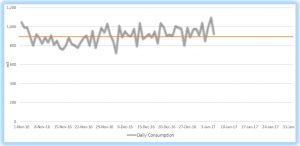 Over the past few months, everyone on St Helena has pulled together and made a significant reduction in our water use – we are hoping that this will continue in the New Year.
While the recent rains have been welcome, reservoir levels continue to decline and we will need a lot more rain before levels become normal. Currently, we are still experiencing a daily shortfall of 100-200 cubic metres of water a day.
Therefore, please encourage friends, family, visitors and neighbours to exercise great care and restraint when using water. Every drop counts, every action counts – please do your bit.
Transfer Systems
The new water transfer system from Chubbs Spring to Scotts Mill is operational and the other networks which are partially complete will come on line soon. However, there remains a need to bowser water to and from other locations to ensure that everyone has access to water.
Geohydrological Study
Connect Saint Helena Ltd is pleased to advise that a contract has been awarded to WSP | Parsons Brinkerhoff, to carry out a geohydrological study of St Helena. This study will inform the drilling of trial bore holes on the Island. Further information will be provided as this work progresses.
Legal Restrictions
The Island-wide legal restrictions are still in force. In addition to these legal restrictions, please continue to do all of the little extra things that you have been doing to save every drop – such as recycling water, flushing the toilet less frequently, using less water to wash up etc. The little things all add up to make a big difference.
These legal restrictions do not apply to 'Grey' or recycled water. Water that you collect from your roof into a water butt or recycled washing water may be used for any purpose.
St Helena Resilience Forum
6 January 2017