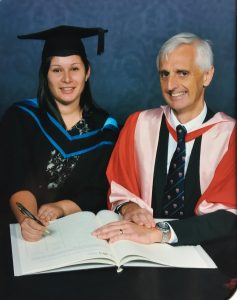 Rebecca Lawrence of Half Tree Hollow (photo attached), has graduated from the University of Nottingham with a five year Bachelor's Degree in Veterinary Medicine & Surgery. Rebecca graduated this summer as Dr Rebecca Lawrence MRCVS, and is registered with the Royal College of Veterinary Surgeons as a fully qualified veterinarian.
In order to gain her veterinary degree in the UK, Rebecca was required to complete a significant amount of work placements during her course. She spent her final year in practice, rotating around various veterinary establishments and was assessed for practical and professional competencies. This included time in equine hospitals, farm animal practice, abattoirs, small animal first opinion and referral practice.
Rebecca commented:
"It has taken a very long time to get to this point and it would be impossible to describe everything I have experienced and learnt. I am starting my first job as a vet in a small animal practice in a few weeks.
"I am immensely grateful to a huge number of people who have supported me along the way.
"I feel I still have a lot to prove to myself but I can say that taking the RCVS oath at my graduation has been my greatest moment so far."
Congratulations are extended to Rebecca from all in SHG.
#SaintStudentGraduates #SaintSuccess
https://www.facebook.com/StHelenaGovt/
https://twitter.com/StHelenaGovt
SHG
25 July 2017