Head of the Governor's Office, Louise MacMorran, was sworn in as Acting Governor, this afternoon, Saturday 25 November 2017.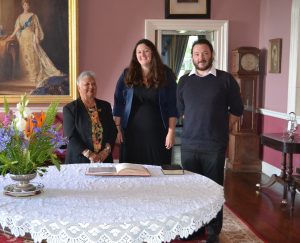 Louise took the prescribed Oaths in the presence of the Acting Sheriff of St Helena, Mrs Patsy Flagg JP MBE, partner Dave Mothershaw, and colleagues, at the Governor's Residence, Plantation House.
Louise's appointment is effective immediately.
Her Excellency Governor Lisa Phillips departed the Island today to attend the Overseas Territories Joint Ministerial Council meeting from 28-29 November followed by a period of overseas leave.
Governor Lisa will also visit Tristan da Cunha from 3-5 January 2018. During this period and up until the Governor's return to the Island on 10 January, Louise will be appointed Deputy Governor.
#StHelena #ActingGovernor #SwornIn
https://www.facebook.com/StHelenaGovt/
https://twitter.com/StHelenaGovt
SHG
25 November 2017