St Pauls Primary School has been holding a week of team building activities to encourage interaction amongst all year groups.  The school has been promoting a message of 'Together Everyone Achieves More.'  Activities concluded yesterday, Monday 14 March – Commonwealth Day (pictured).
During the week, schoolchildren from all year groups mixed with each other – as oppose to working within their assigned year groups.
Lolly Young from the Education Directorate's Inclusion Team visited the school and anti-bullying messages were delivered to pupils to encourage a safe and cohesive environment.
Head Teacher Pat Williams said:
 "The aim of our week of activities – linked to the Commonwealth Message of Inclusion – was to reduce bullying within the school and to highlight the importance for children to respect each other, no matter what their culture.  No child should ever feel alone."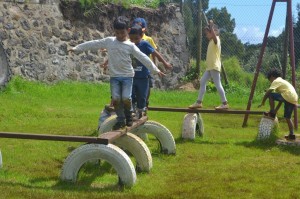 Commonwealth Day activities were led by Head Teacher Pat Williams and teacher Sherell Thomas and commenced with a school Assembly conducted by Year 5/6 pupils. Children were then spilt into groups of mixed ages and took on challenges such as baking and designing posters, books and sculptures which linked to both St Helena and the Commonwealth Nations.  The day ended with both traditional and Commonwealth sports games.
Pat Williams concluded:
 "This week has gone really well and both students and teachers have displayed a great amount of creativity and teamwork.  We're not stopping here – we will continue to generate activities each day to develop team building mindsets – where both the children and teachers work more closely together."  
SHG
15 March 2016