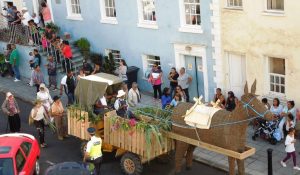 The 2016 St Helena's Day celebrations were this year held on Friday 20 May 2016, and were reckoned by all to be a great success.  Once again organised by New Horizons and held in lower Jamestown, traditional activities and stalls were arranged in both the Mule Yard and along the Seafront area.
The day began at 9.45am with a Parade and Service, with speeches given by HE Governor Lisa Phillips, Miss St Helena Kimly Yon, Director of New Horizons Nick Stevens and Chairman of New Horizons Paul McGinnety.
In her speech, Miss St Helena welcomed all in attendance to the 514th anniversary of the discovery of St Helena and remarked:
"Over the last four years, our Island has set itself on a path of development that best suits its unique situation.  We have experienced a most dramatic and rapid change but one that will be economically beneficial once the Airport is open for tourism and most of all for our Returning Saints.  The quality of life for its people has and will continue to improve."
Kimly thanked the lead organiser of the day, Nick Stevens, and encouraged all to enjoy St Helena's National Day and to show true community spirit during the celebrations. 
HE Governor Lisa Phillips said: 
"Since I arrived just four weeks ago, I think the question most people asked me (apart from whether I get scared up at Plantation House) is about change.  Questions to me all have this word 'change' in them.  What do I plan to do that will change the Island for the better? How will the Island change with the Airport?  Some people ask this question worrying about that change.  Others ask it knowing there will be opportunities. 
 "The underlying question is will change bring with it progress?  The answer for me is a resounding 'Yes'.  But we need to get the balance right between promoting St Helena and protecting what is special about it.
 "But what, for me, will make change result in progress is also the foundations of St Helenian society.  Community cohesion is strong on the Island … There is no 'walk-on-by' society here.  Families provide safety nets.  We need to continually preserve this cohesion and only Saints can do that themselves. 
 "But we also need to reinforce this by encouraging volunteering, strong parenting, role modelling and championing for our children.  We should continue in the strong tradition of caring, especially for our children and our vulnerable and older people." 
 The mini-marathon kicked off the team events, followed by a midday football tournament.   One of the highlights of the day was, as always, the much anticipated themed float parade which drew large crowds into town. This year's theme, 'Efficient! Safe! Reliable! – St Helena Transport Through the Ages', saw St Paul's district take first place with their Donkey float (pictured).
There was live music in the Mule Yard throughout the day and an impressive firework display in the evening. 
 SHG
23 May 2016