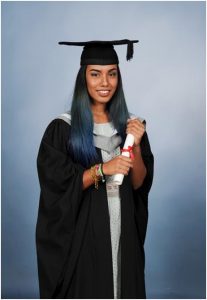 Robyn Sim of Enfield Lodge, St Paul's (photo attached), has successfully completed her foundation course in Early Years Education – at the end of her second year of study – and has graduated from the University of Hertfordshire with a Foundation Degree in Education.
Having successfully passed both Maths and English skill tests, Robyn has now gained a placement on the B.Ed. Honours Degree Course in Education with the University, and is enrolled on this course for her third and final year.
Robyn left St Helena in July 2014 to undertake teacher training in Hertfordshire, UK, having spent just over a year on-Island as an Initial Teacher Trainee.
The Education & Employment Directorate is pleased to extend congratulations to Robyn on her well deserved success.
SHG
19 December 2016