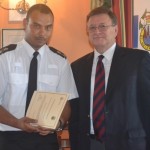 Early last week, the Police Directorate held its annual Police Awards Ceremony at Plantation House to recognise the efforts and achievements of outstanding individuals in the Police Service.
HE Governor Mark Capes and Chief of Police Trevor Botting emphasised that the work of the emergency services is all about protecting individuals in the community, which can be a very difficult, but rewarding, job.
Governor Capes said:
"It is a real pleasure to be able to say thank you to all of you, for all that you have done, and continue to do, for St Helena and for the community that you serve. Your Chief is an excellent Chief and we are lucky to have him – he has done a superb job right from day one. He has the experience, the energy, and the commitment to make the Police Service and the Police Directorate an excellent unit."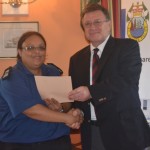 During the awards presentation, Police Officers, Prison Officers, Fire & Rescue and Sea Rescue personnel and members of the Administration Team were honoured with Long Service awards and Certificates of Merit, which recognise professionalism and good work.
Long Service awards went to Police Constable Christopher Joshua, who has served 25 years, Prison Officer Winson Henry, who has served 10 years and Prison Officer Claire Duncan, with 5 years in the service. Deputy Sea Rescue Manager Craig Scipio was also awarded for serving 10 years.
Chief of Police, Trevor Botting commented:
"This is a really important ceremony, and Plantation House is a fitting venue for acknowledging all the hard work that has gone on within the Directorate in serving the community here on St Helena.
"I am very proud to lead the Directorate, and even more so at events like today when we get the chance to recognise and acknowledge the achievements of officers and the staff and what they contributed to the service of the people of St Helena.
 "Thank you for the work you do, thank you for the way you have embraced the developments and changes as we seek to improve our service to the community – and thank you for your dedicated service to this community.'
 Four pictures accompany this release.
SHG                                                                                                                            
21 March 2016