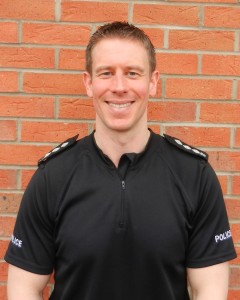 The St Helena Police Service will soon be welcoming a new Chief Inspector – Steve Riley (photo attached) – who succeeds the previous Chief Inspector, Merlin George, who has now retired from the service.
Chief Inspector Steve Riley is currently a serving officer with Leicestershire Police in the UK and arrives on St Helena with his family on Friday 20 May 2016 on a two year contract.
On his appointment, Chief Inspector Riley said:
"I am really looking forward to living and working on St Helena.  While I bring certain skills and experience from the UK which I hope to pass onto my colleagues in the St Helena Police Service, I also hope and expect to learn from officers whilst I am on St Helena, in what is a unique policing environment."
Chief of Police Trevor Botting added:
"Chief Inspector Riley is an experienced police officer and brings a broad policing background to his role on St Helena. He will be responsible for Operations, for which he is very well qualified, and along with his responsibilities for Neighbourhood Policing, Chief Inspector Riley will also be leading on the succession and development plans to prepare local officers and staff for leadership roles within the Police Service."
Steve Riley grew up in Derbyshire and joined Leicestershire Police in 1998.  His first posting was as a uniform response officer at Loughborough for three years.  He then moved to the city of Leicester and was promoted to Sergeant in 2003. In 2004 he moved headquarters and for four years was in charge of public order training and involved in a number of specialist public order operations.
A short spell as a Neighbourhood Policing Sergeant back in the city followed, before he was promoted to Inspector.  His first role was as an Operational Command Inspector and in 2010 he moved to East Leicester Local Policing Unit as the Neighbourhood Inspector.  For three years he managed crime performance for the area as well as developing Neighbourhood Policing.
In September 2013, Steve Riley was promoted to Chief Inspector and his current role is as a Public order and Tactical Firearms Commander, whilst also being responsible for the Force's uniform response teams.
Away from work, Steve Riley enjoys fitness and sports, especially football and rugby, and has practiced martial arts since the age of 13.  He arrives on St Helena with his wife Joanna and two daughters and a son.
SHG
26 April 2016