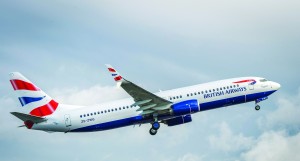 Comair has now taken delivery of its brand new Boeing 737-800 aircraft which will be used to serve St Helena Airport from Johannesburg.
The actual aircraft, registration ZS-ZWG, is pictured in the two photos attached.
Comair Chief Executive Officer, Erik Venter, said:
"The arrival of our newest addition is part of our ongoing fleet upgrade strategy and an important step towards operating the most modern and efficient fleet within southern Africa.
"We are very excited that this aircraft will be operating our St Helena air service".
The 737-800 aircraft is the second-longest plane in the 737 range, known for its fuel efficiency and spacious seating plan. It is fitted with split-scimitar winglets – vertical wingtip extensions that reduce drag and provide lift, cutting fuel consumption and lowering the aircraft's carbon footprint.
For the St Helena air service, the aircraft will be configured to accommodate approximately 120 passengers.
SHG                                                                                                                               
4 March 2016