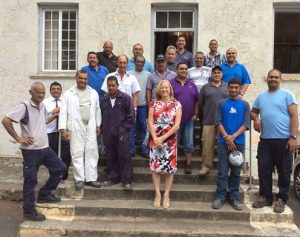 Last week Governor Lisa Phillips continued her programme of getting to know the staff and operations of SHG, with a visit to the Environment & Natural Resources Directorate.
Governor Phillips met staff at the Public Works Yard and Essex House for discussions about housing and property, maintenance, planning and the marine environment. At Donkey Plain she met with the entire Roads Team who were gathered for a 'toolbox' talk, and then went up to meet the staff at the Government Garage who were busy at work with repairs to a wide range of vehicles.
The last leg of the visit was to Scotland to meet staff there and discuss forestry, agriculture, bio-security, fisheries and environmental management.
The discussions with staff were quite informal and enthusiastic, with one member of the team remarking that this was the first time a Governor had ever been to Donkey Plain!
The Governor has expressed an interest in going out again soon, to see first-hand some of the good work being delivered on the ground and see for herself the challenges to be addressed in the coming years. This will also give her a chance to meet some of the staff who missed her last week.
Governor Phillips commented:
"It was great to meet the men and women who take care of St Helena – including the roads, cars, housing, waste, environment and many more areas besides. I thanked them for their valuable contribution which is often unseen by the rest of the community.
"Coming new to the Island, it has struck me how well maintained the Island is given the limited resources we have. And, although the state of the roads features regularly at the Constituency meetings that I've attended, in my humble opinion, the roads actually seem pretty good thanks to the hard work of the Roads Team."
Two photos are attached to this release.
SHG
31 May 2016