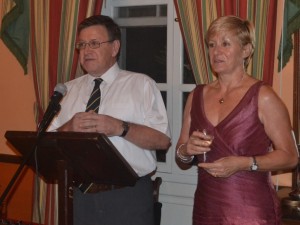 HE Governor and Mrs Capes departed St Helena today, 18 March 2016. The Governor and Mrs Capes bid farewell in the Governor's Office to members of the public, before moving onto the Wharf to say their final goodbyes to Councillors and senior officials (two pictures attached).
Earlier in the week, various receptions were held where colleagues and the public wished the Governor and Mrs Capes well, where Governor Capes took the opportunity to thank his staff for their support.
On Friday 11 March 2016, SHG and ESH staff held a reception at the Blue Lamp, Ladder Hill, where Chief Secretary Roy Burke and Councillor Lawson Henry commented on the strong leadership of Governor Capes. Gifts were also presented (pictured).
Chief Secretary Roy Burke said:
"The Governor and Mrs Capes arrived on St Helena on 29 October 2011, a little over four years ago, just days before the announcement of the signing of the contract for a new airport for St Helena – many of you will remember Governor Capes making that long awaited announcement in front of the Court House on 3 November 2011.  It is indeed a remarkable testament to the work done by His Excellency and a very large number of people over the intervening four years that we stand here today within touching distance of a fully operational airport. 
 "There have indeed been a number of positive changes and developments that will be associated with Governor Capes' term in office, air access being but one of them.  Others include the divestment of utilities, the creation of SAMS and the restructuring of the Public Service under the Public Sector Modernisation Programme.  
 "Finally, as we prepare to move on to the next chapter in our Island's history, and as Governor and Mrs Capes prepare for their departure I would like, on behalf of members of the Public Service, Enterprise St Helena and others here this evening, to extend a big thank you for the sterling work that you have done for St Helena, for guiding and listening and for helping us to get ready for the unprecedented change that air access will bring." 
 On Wednesday evening, 16 March 2016, the Governor hosted his last reception at Plantation House (pictured), where members of the community, the private sector and official staff were welcomed.
Governor Capes remarked:
"It would take far too long to speak about the many changes that have taken place over the past four years, but I'm happy to say that I think most, if not all of it, has been for the better. 
 "Fortunately, the demands of this fascinating job were made manageable thanks to strong support from some outstanding colleagues.
 "I am particularly pleased that ExCo is now working more efficiently and I thank Councillors for the good working relationship I have enjoyed with them.
 "To you all, from Tamara and me, our very best wishes for the future to each one of you and to all on St Helena, Ascension and Tristan da Cunha." 
 His Excellency Governor Capes departs St Helena today for France and Corsica on official business, before returning to the UK in April at the end of his term in office.
SHG
18 March 2016