As part of the Police Directorate's ongoing community engagement programme, Team One – Sergeant Jane John and Police Constables, Nicole Hercules, Craig Crowie, Isabella Bezuidenhout, Chris Joshua and Amanda Peters – hosted a Sponsored Skittles night to raise funds for Ebony View.
Involving all of St Helena's Emergency Services, including St Helena Airport Fire Security, the event was hosted at the Jamestown Community Centre on Saturday 30 July 2016, and the total amount of money raised, after expenses, was £853.00.
Sergeant John commented:
"Armed with community spirit and a healthy dose of competitiveness, Team One, competing colleagues, and trusted supporters, showed up on the night for what turned out to be a successful event."
Staff and clients of Ebony View were transported to the event by Special Police Constable, Kevin Caesar, using the prison bus.  The bar was manned by Olive Williams and hot food and refreshments (including the ice cream bus) were provided by Shirley Crowie and team.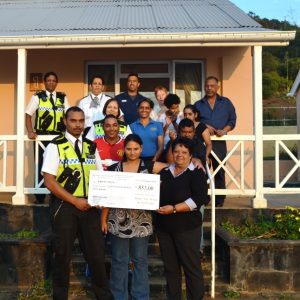 Music and karaoke was generously provided by Jeremy Johns and enjoyed by all. Raffle tickets were sold on the night with great prizes including, a patio set of four tables, chair and umbrella, donated by Solomon & Company (St Helena) plc, a two-burner electric stove, donated by the Rose & Crown, and a steering wheel cover and car accessories, donated by C&Bs. All staff from the Police Directorate donated towards other prizes which included food hampers, bottles of wine, and much more.
A cheque for £853.00 was presented to Ebony View clients by PC Craig Crowie on Thursday 25 August 2016 (see photo attached). Clients and staff were very appreciative of the money raised and are planning to use the money to purchase some outdoor furniture for the clients.
Team One would like to thank all those who took part in their community endeavour. 
Watch this space for future upcoming community engagement events from the Police Directorate.
SHG
26 August 2016