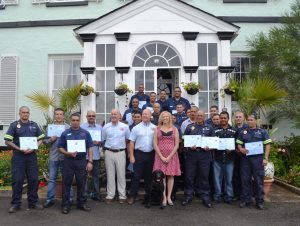 In a reception at Plantation House today, HE Governor Lisa Phillips presented personnel from the St Helena Fire & Rescue Service, St Helena Rock Guards, and the St Helena Airport Rescue & Firefighting Service, with accredited certification for successfully passing an intense technical rope rescue/access course.
26 staff passed the course with a 100% pass rate.
The training was delivered by Neal Pickersgill and Andy Barker of Technical Rescue Training UK Ltd, and comprised of three different levels of training, including a separate programme for seven personnel who also passed as Supervisors.
This training was a requirement under the Airport accreditation, due to the Island's difficult terrain, but was also an opportunity to up skill personnel for search and rescue of missing persons which may occur elsewhere on-Island or on the shoreline.
The training will continue on St Helena, carried out by the newly qualified Supervisors. Technical Rescue Training UK Ltd will reassess the training programme every three years.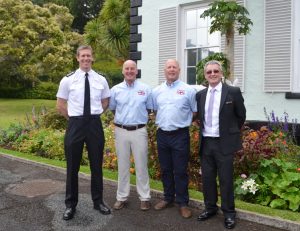 Acting Chief of Police, Steve Riley, commented:
"The rope rescue course is a vital part of Airport accreditation. Although St Helena does not yet have commercial aircraft, the Airport is indeed open and is used by charter and medevac flights. The skills gained on this course are instrumental for ensuring that these flights continue to operate safely.
"St Helena now has a cadre of 26 personnel from the St Helena Fire & Rescue and Airport  Rescue & Firefighting Services, and the Rock Guards, who can rescue missing people from areas on St Helena that are not accessible from either the sea or by conventional means on land.
"I would like to thank Andy and Neal for delivering the course and also Ian Johnson who organised the logistics. The commitment shown by the personnel who underwent this training will now be matched by the Police, and Environment & Natural Resources Directorates, in that we will provide the equipment and the time to train, and thus enhance the skills you have gained.
"I would like to thank everyone for their hard work and dedication. You have made St Helena a safer place for the Saints and all those who visit this beautiful Island."
Two photos are attached to this release.
SHG
21 September 2016