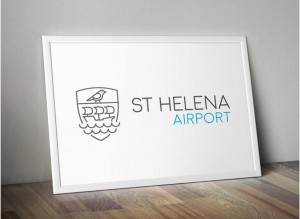 St Helena Government is pleased to release today a brand new logo for St Helena Airport.
The logo, commissioned by SHG's Public Relations team and designed by South African PR Company SHERPA, is a modernised simplification of the St Helena crest with a forward facing ship and bird signifying how St Helena is moving forward into a new era of air travel. It establishes a unique brand for the Airport while maintaining elements of the Island's history and culture.
The logo will principally be used by Basil Read.
St Helena Airport will open up the Island to the rest of the world and it is important that the Airport has a clear identity that is easily recognisable to all travellers and potential visitors. The logo will be one of the first things that air passengers will see when travelling to and from St Helena.
The logo has been designed to be adaptable and flexible, able to work with different media, colours, collateral, signage and online. It will feature on a range of Airport related material and equipment – for example on airport vehicles, uniforms, buildings, signage, marketing material etc.
SHG
13 July 2015