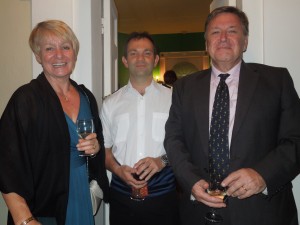 Royal Navy Frigate HMS Lancaster bade farewell to St Helena this morning with a special pass across James' Bay, marked by firing a two-gun Salute to the Island and ending her four day stay at St Helena. HMS Lancaster and RFA Gold Rover (which departed St Helena on Thursday evening) visited the Island from Monday 12 October 2015 to take part in the bicentennial anniversary of Napoleon's arrival to the Island.
While here, Royal Navy personnel participated in various activities, bicentenary events and enjoyed exploring St Helena. Yesterday evening, a reception hosted by HE Governor Capes was held at the Briars Pavilion for invited guests and French visitors – and as a thank you and farewell to the Royal Navy.
Governor Capes said last night:
"This has been a memorable week. A positive week. An enjoyable, week filled with good will and a sense of common purpose. A week of friendship and of shared interests.  A week full of history and yet all the time with our minds turned towards a future in which we build on that history.
"Napoleon's years on St Helena form an important part of our history. We warmly acknowledge his legacy. A legacy that today brings visitors to St Helena from far and wide.  And here I must thank the very distinguished representatives of the Government of France and the Napoleon Foundation, Ambassador Mendelson and Prince D'Essling, and their colleagues, for being here for this bicentennial week.
"St Helena is working its way through a period of profound change.  We are now on the brink of joining the rest of the world, by moving from travelling overseas by sea, to travelling by air. Of course, amid all this change some things will remain constant.  As a remote Island surrounded by thousands of miles of ocean, our links with the sea will remain strong.  Those links are also part of our history, part of our culture and have shaped the way we live.
"For this Island community it will be forever reassuring to see Her Majesty's ships in James' Bay.   We thank you Commander Laughton, you and the crew of HMS Lancaster, and also Captain Selby and the crew of the RFA Gold Rover, for making the journey to St Helena and for sharing with us the bicentenary of Napoleon's arrival on HMS Northumberland 200 years ago today. 
"Let us respect and understand our history. As we move forward let us not forget the sacrifices and labours of those that have gone before us. Let us honour them, by striving together to give this extraordinary Island a brilliant future."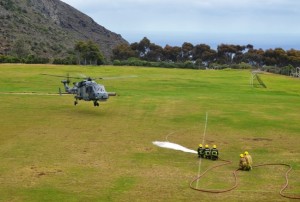 Prior to departing St Helena this morning, HMS Lancaster hosted Governor Capes and Head of the Governor's Office, Sean Burns, onboard. Governor Capes and Mr Burns were collected from Francis Plain by the Lancaster's Wildcat helicopter for a flyover of the Island before a tour onboard the ship.
Members of the public and schoolchildren were able to witness the landing of the Wildcat helicopter at Francis Plain, returning the Governor and Mr Burns, which provided a fitting ending to the Navy's most recent visit to St Helena.
Three photos are attached to this release.
SHG
16 October 2015