Prince Andrew School held its annual end of year Achievement Awards ceremony on Wednesday 9 December 2015. Students, parents, guardians and invited guests – including Acting Governor Sean Burns, Councillors Christine Scipio-O'Dean and Pamela Ward-Pearce, Father Dale and the Director of Education & Employment, Shirley Wahler – gathered in the school hall to celebrate the presentations. Five pictures are attached to this release.
Head Teacher Paul Starkie opened the ceremony, highlighting to students the determination needed to achieve their goals, the importance of studying and the responsibility of becoming successful.
Paul said:
"Whenever students leave Prince Andrew School, we want them to be prepared for whatever the future holds for them. We want them all to get the qualifications and skills they need, to get the job they really enjoy that will enable them to lead a happy and fulfilled life.
"It is your determination and persistence that will make you a successful person. So get up, all of you – and make it happen."
The first presentation was for the Jean Beadon Award and went to Deolandre De Jager. The Governor's Award went to Mic Kail Harris. The Bishop Houghton Award, presented by Cathy Hopkins, went to Christian George and Louise Thomas.
Scott George was then presented with the 'Student of the Year' award for Years 7 – 9 and David Clark for Years 10 -13. Top male and female awards went respectively to Scott George and Niza Yon.
The Joy George Award, presented by Mrs George herself, went to Teagan Peters, Mic Kail Harris and Travis Peters. Following that came was the Eliza Mary Lloyd Award, which saw Alex Henry win the cup and Brooklyn Fowler commended for outstanding effort.
To end of the presentation, the Director of Education & Employment gave a short speech thanking Prince Andrew School's teachers and especially Paul Starkie, as this was his last PAS awards ceremony.
Student President Regan Backhouse then gave a short speech of encouragement to fellow students.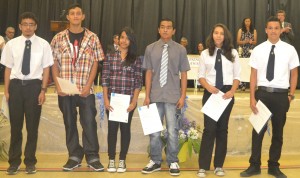 Regan concluded:
"To those of you who did not achieve an award today, the best advice I can give you is to take a good look at your fellow students who did – and pay special attention to their attitudes to learning and their dedication to achieve their dreams. Use them as role models and take the necessary steps in your own life.
"To all staff at Prince Andrew School, I would like to take this opportunity and say thank you. We are all extremely grateful for what you do.
SHG
11 December 2015