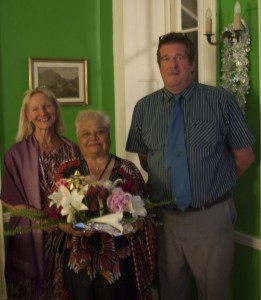 St Helena's Sheriff, Greta Pat Musk MBE JP, will retire from her role as Sheriff on Wednesday 30 December 2015.  Acting Governor Sean Burns and Mrs Burns hosted a dinner in Pat's honour on 7 December 2015 (pictured), to mark her years of service to St Helena.
Greta Pat Musk was first appointed as Sheriff of St Helena on 14 September 1994 by Governor Alan Hoole.  In her capacity as Sheriff she has sworn in several Governors, including:
1995, David Smallman
1999, David Hollamby
2004, Michael Clancy
2007, Andrew Gurr
2011, Mark Capes
Acting Governors Sworn In by Pat have included Michael Clancy, Kurt De Freitas, John Styles, Ethel Yon, Martin Hallam, Andrew Wells, Owen O'Sullivan and Sean Burns.
In June 2000, Pat was awarded an MBE for her contribution to St Helena's community – coinciding with the same year that she celebrated serving for 25 years as a Justice of the Peace on the Island.
Pat continues to undertake voluntary services for the Island's Girl Guides, the League of Friends and the Anglican Church.
SHG
9 December 2015