Further to the update issued on 9 July 2015 on the operation to remove fuel oil from the RFA Darkdale wreck, Andy Liddell of MOD's Salvage & Marine Operations division has given more details of the team's most recent work.
Following the successful removal and disposal of high explosive shells from on and around the wreck, the team has been concentrating on the painstaking work of preparing for the hot-tapping operation.
Andy explained: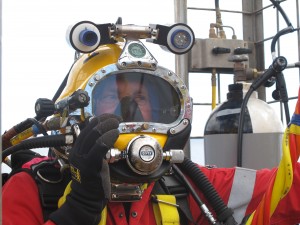 "This has involved a lot of dives to carefully mark out the hull, clean off a layer of marine growth, take ultra-sonic thickness readings of the steel – and then mark the exact position to be drilled. 
"The thickness readings of the hull have been a surprise to us.  They have shown that on the majority of the wreck there has been very little corrosion – the steel is virtually the same thickness as the day the ship was built. 
 "We have now drilled one hot-tap system test which was successful, followed by a test pump during which we removed 25 cubic metres of oil. In the coming days we intend to drill more hot taps in preparation for the tanker, which is expected to arrive in the Bay next week."
SHG
16 July 2015