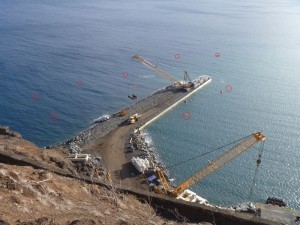 Further to the Press Release issued on 30 June 2014 informing the public of the 'No Go' area around the Permanent Wharf, it has been brought to the attention of the Harbour Master that boats are coming too close to the restricted area.  It appears that marine users are increasingly ignoring the marker buoys despite their strategic positioning to guide boats around the dive area. Earlier this week a boat came particularly close, posing a serious risk to divers' safety, despite the visible Alpha Flag –the internationally recognised blue and white flag, signifying there are divers in the water.
Marine users are reminded of the restrictions currently in place at Rupert's and are asked again to adhere to the signage and to note the 'No Go' area – marked by yellow buoys – ensuring that all operations take place outside of them. Anyone seen not complying with these limitations will be dealt with under the Harbours Ordinance, Section 14 – Enforcement of Directions to Vessels in Harbour Waters.
Marine users are also reminded of Section 13.1 of the Harbour's Ordinance which states: 'The Harbour Master may give directions applicable to a particular vessel, to all vessels, or to a specified class of vessels in harbour waters for the purpose of ensuring the safety of moored vessels at, or to property at, or forming part of, any landing place, or of securing the efficient conduct of the business of boarding, unloading, arriving at or departing from any landing place, and without prejudice to the generality of the foregoing.'
A map of the 'No Go area' is attached to this press release.
SHG
26 June 2015