As is customary on St Helena, HE Governor Capes hosted a Garden Party at Plantation House on Saturday 18 April 2015 to celebrate HM Queen Elizabeth II's Birthday (which falls on 21 April).
Despite changeable weather invited guests gathered under a large marquee in front of Plantation House to enjoy drinks and refreshments.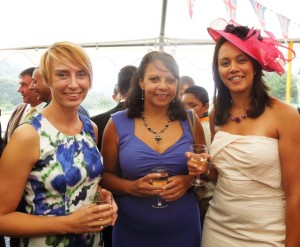 In his speech on the day, Governor Capes spoke about the imminent Airport opening and the new opportunities and challenges it will bring for St Helena.
Governor Capes said:
"In July, just a couple of months from now, an aircraft will land at St Helena Airport for the equipment calibration tests. That will be a day for the history books and a hugely symbolic moment for St Helena as we approach a new era of air travel connecting this Island with the rest of the world – a new era that will also bring with it new opportunities and new challenges. 
"Because, just as St Helena stands on the brink of that new era of air travel, so too it stands on the brink of a journey to growth and prosperity – a journey that leads away from the years of decline to the prospect of a vibrant, confident and successful St Helena – a St Helena that offers a promising future for all who live on this jewel of an Island. That is the vision, that is what we are working for.
"Of course, we must expect some obstacles on the journey… But at last, St Helena has the opportunity to grow and to make her way in the world. Understandably, the Airport and the coming of air access is the big story, the exciting story, but as I mentioned at the recent ESH Opportunities Fair – or 'Good News Friday' – there is much important work underway, across the board and on many levels, to help strengthen and modernise vital services for the community.
"For example, a major upgrade of our General Hospital will begin this year. Just across the way from here, at Cape Villa, construction is already well advanced to provide additional, modern accommodation for those in our community who need a little extra care and support – and of course, the former residents at Sundale are already enjoying fine new accommodation at Ebony View. Our new Safeguarding Directorate has expert staff and additional funding to ensure that a quality service is available to all who need it. And so much more is underway, or in the pipeline, to improve services to the community.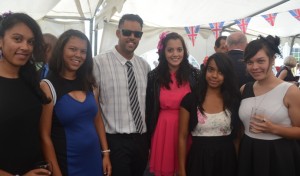 "On the education front, last year we saw the best ever GCSE and A level results. We must always invest as much as possible in our young people so that they are properly equipped to participate in the opportunities ahead. 
"I know that several hard working Saint graduates will be returning to St Helena this year, to take up employment, putting their education to good use, to help St Helena advance on its new journey. I warmly congratulate them – and others before them – for their achievements." 
Governor Capes also congratulated Aldhelm Garner for his achievement of becoming St Helena's first locally trained and recruited Solicitor.
Governor Capes took the opportunity to highlight an event to mark the reopening of High Knoll Fort, following essential repairs, which will take place on Saturday 25 April 2015.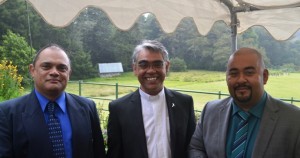 Following HE's speech, he invited guests to join him in a loyal Toast to HM The Queen which was immediately followed by the National Anthem courtesy of  the Gettogether's Orchestra and the Salvation Army Band.
SHG
20 April 2015