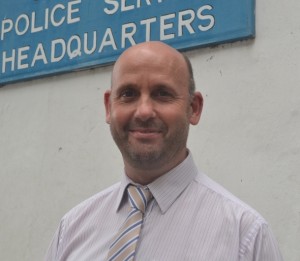 Joseph Phippard (pictured) arrived on Island on 17 September 2015 to undertake his role as a Detective Constable specialising in Historic Case Reviews for St Helena Police Service. 'Joe' is initially on the Island for one year, with the possibility of an extension.
Joe will specialise in reviewing historic cases and investigations concerning sexual offences where there has been no prosecution. His job will be to establish whether these cases can be progressed and to identify opportunities to take cases forward with the support of victims. He will also assist with other investigations as required.
Joe spoke of the main challenge in his role:
"The resources that would be available for case reviews in the UK are not available on St Helena, but this is not insurmountable and this work is critical to giving victims a voice in the justice system. All of our investigations will involve close working with the Safeguarding Directorate to ensure that victims and witnesses are supported throughout. Joint working is the only way in which we can make real progress in this challenging area."
Joe originally joined the Royal Navy, serving for over six years before joining Sussex Police. He was based in a busy seaside town and spent three years in uniform before moving into Criminal Investigations. During this period, he became a qualified Detective, spending many years in specialist investigations dealing with offences around vulnerable people. He also has experience of investigations into sexual exploitation and high-tech crime.
Apart from being an accredited criminal investigator, Joe holds an Honours Degree in Applied Investigations in Policing.
Joe concluded:
"My main strengths are attention to detail and an inquisitive mind. Being a people person as well – this naturally led to a career in serious crime investigations."
SHG
23 October 2015