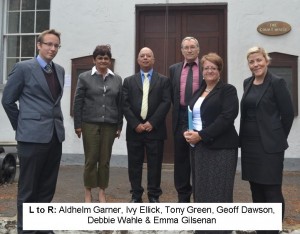 The St Helena Public Solicitor's Office has for the last two months been receiving valuable on-Island support from qualified UK Barrister, Emma Gilsenan.
Supported by the Foreign and Commonwealth Office's Overseas Territories Programme Fund, Emma arrived in July 2014 (on her second visit to the Island), to assist the Public Solicitor's Office. Emma's role has been to provide training to the Lay Advocates, draft a training manual, and support the trainee Public Solicitor, Aldhelm Garner, with criminal, civil and human rights cases across the broad spectrum of services provided by the Office.
With two new Lay Advocates recently appointed (Tony Green and Geoff Dawson), Emma has been delivering intense training to them, supported by the Public Solicitor and fellow Lay Advocate Ivy Ellick. As the role of a Lay Advocate is to provide advice and guidance requested by people in a confidential manner and representing that person in court if necessary, Emma has been training the Lay Advocates in Criminal Law, Practices, Procedures, Advocacy and Client Confidentiality and Ethics.
Emma said:
"I have recently participated in rigorous training with Argent/Goldsmith Chambers and Middle Temple in London as part of my pupillage. During the course of training with the Lay Advocates, I have been passing some of what I have learnt on, to hopefully assist them in performing their role.
"The Lay Advocate scheme is unique to St Helena and Ascension Island. It is very important, that on such small Islands, people who are giving their own time to assist members of the public are valued. Lay Advocates understand the community and can provide valuable support and assistance to people involved in the legal system. The Public Solicitor's Office is an office that is independent of Government and advises and supports individuals in the community. This support and advice is extended to Lay Advocates in their role in the legal system."
To complement the training Emma has also produced an introductory training manual in criminal law as a reference guide for the Lay Advocates in their practice going forward.
Emma added:
"The Public Solicitor's Office has a wide remit and deals with a broad range of cases including, but not limited to, Criminal, Prison Law, Employment, Civil, Family, Child Care and Human Rights. The Office is therefore very busy and the team are very dedicated to assisting the community and providing a quality independent legal service.
"We are very grateful to the Lay Advocates for giving their time to the community, enabling them to have a voice, access to justice and understand their rights as citizens and individuals."
Emma holds a Law Degree and has a wealth of experience in Law. She completed her Bar Exams with the College of Law in London and was called to the Bar of Middle Temple in 2008. Emma has worked in the legal team of UK Charity, The Howard League for Penal Reform, in Criminal Defence Firm GT Stewart Solicitors in London and has also recently completed a pupillagewith Argent/Goldsmith Chambers. In 2013 Emma first visited St Helena to support the Public Solicitor's Office with their preparations for Supreme Court.
Emma departs the Island on Wednesday 8 October  2014 and will be assisting with training and support to the Lay Advocates on Ascension Island. Emma will return on 5 November 2014 to assist with this year's sitting of Supreme Court and deliver further training.
A photo is attached to this release.
SHG
7 October 2014