St Helena yesterday hosted a one day visit for two major French warships – the 21,300 ton Force Projection & Command Ship 'FS Mistral' and the advanced Frigate 'FS La Fayette'. The ships have been deployed since March (until July 2014) and stopped at St Helena while on Mission Jeanne d'Arc in the South Atlantic.
Both vessels arrived in James' Bay at 07.00hrs yesterday morning. Embarkation of Navy personnel took place soon after with over 800 Soldiers and Sailors in full uniform coming ashore for tours of St Helena, including the Napoleonic Sites of the Briars Pavilion, the Tomb and Longwood House.
A programme had been drawn up for the day by the Governor's Office, working with the French Consul and Officers onboard both vessels.
Activities included a media call to the Mistral where the local press were invited onboard the 199 metre vessel for a full tour. Highlights included viewing the Helicopter Hangar which can house up to 16 heavy helicopters (yesterday the ship carried five), and the Hospital area which is fitted with two surgical units, comprehensive technical facilities and 69 medical beds. The medical facilities can be expanded with additional medical shelter in the Helicopter Hangar. The media were also able to tour the Bridge and Storage Decks – home to all deployment equipment and capable of holding up to 110 armoured vehicles or 13 main battle tanks.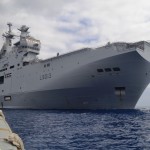 Members of the public (who had won tickets by various radio quizzes) and groups of schoolchildren were able to visit the Mistral in the afternoon. HE Governor and Mrs Capes and other distinguished guests were also invited onboard – taken by helicopter – for an official lunch.
A special ceremony was held at the Tomb in the afternoon, with around 150 French Military and many spectators in attendance. Governor Capes made a special address to the French Military where he officially welcomed them to St Helena and spoke of the Island's connection with France and what a memorable occasion today was for both visitors and residents alike. French Navy Visit – Governor's Remarks at Napoleons Tomb, 15 April 2014.
Commenting after the ceremony, Captain of the Mistral, Francois-Xavier Polderman, remarked:
"Coming to St Helena is a very rare experience and I think you could feel all around this Tomb that it was very moving for all the soldiers and sailors who were here. We were happy to celebrate our dead soldiers and sailors of all times.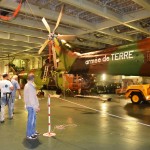 "I have definitely enjoyed myself it has been a wonderful experience. I never thought I would be able to live this."
Captain of La Fayette Serge Bordarier, added:
"It is a great pleasure to be here and a great experience. The discovery of this Island is for us like a dream, when we were children we dreamed of coming here, so for us it was a very emotive ceremony held here."
Following the ceremony, both Captains answered questions from the media. Navy personnel then travelled to Longwood House where a reception was hosted by Honorary French Consul Michel Dancoisne-Martineau.
Throughout the day, Island residents were able to glimpse various helicopters as they flew over the Island taking photographs and embarking and disembarking Ships' personnel. Both ships departed the Island at 19.30hrs last evening after a most successful port call in St Helena.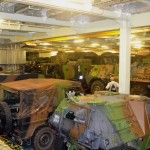 photos are attached to this release.
Notes for Editors
From March to July 2014 an amphibious group composed of the LHD Mistral and the FLF La Fayette will be strategically positioned in the Atlantic Ocean where military operations and bilateral actions will be conducted. During this time, the trained officers from the French Naval Academy class of 2011, as well as foreign officers, will carry out their first major operational deployment. The aim is to give these young officers a solid foundation in military leadership and seamanship – thanks to the practical and
co-operational nature of the training and the experience of taking real responsibilities.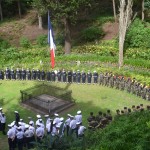 The Mistral is multifunctional. It is an assault helicopter carrier, an amphibious ship (able to deploy troops and vehicles) a NATO-certified Headquarters, a hospital ship (able to provide health support to combat operations or humanitarian emergencies) and a forward base for special forces.
Multi-mission Stealth Frigate La Fayette leads missions centred around knowledge and anticipation, crisis and conflict prevention, the maintenance of sovereignty in national waters and special operations and missions.  
SHG
16 April 2014