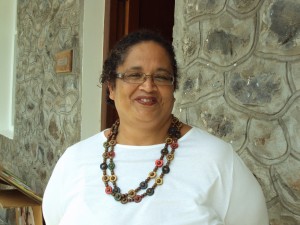 Departing on the RMS on Friday 7February for a period of overseas training and exposure for the Education and Employment Directorate is Carol Youde (photo attached).  Carol is currently based in Pilling Primary School as an Advanced Skills Teacher (Maths), teaching Year 5/6. 
Carol's training in the UK will focus on developing her knowledge and understanding of a middle manager's role in leading subject development within a primary school – with a key focus on leading the mathematics curriculum.  
Carol will also gain an insight into curriculum design in the primary sector with an exposure to the International Primary Curriculum.
Carol met with the Education Committee on 22January 2014, where she gave an overview of what her training programme would entail, to gain vital skills and experience to improve the standards of maths teaching in St Helena's primary schools.  The Committee was supportive of this training and was pleased to see focus being given to a vital subject in the curriculum. 
Carol commented:
"I am privileged to be given this opportunity to go on an exposure visit.  Being a St Helenian teacher and knowing the Island's culture means I can focus on and select what is more likely to benefit our children in raising attainment.  More importantly, on my return I look forward to cascading the knowledge and skills gained to all primary teachers on St Helena."
SHG
7 February 2014