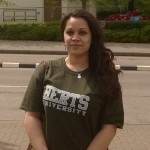 Laura Lawrence of Half Tree Hollow, has graduated from the University of Hertfordshire with an Upper Second Class Degree (Honours) in English Language and Communication with English Language Teaching.
The Degree lasted three years, and was a joint Honours Degree with English Language and Communication as the Major and English Language Teaching as the Minor.
The English Language and Communication programme dealt with many aspects of language (mainly English), such as: describing and explaining how languages work, how different groups in society use language in their own characteristic ways, how children and adults acquire language(s) in the first place and how languages change over time.
The English Language Teaching programme covered all kinds of English language teaching.  It included teaching English to people who live in the UK, to foreigners and to UK visitors.
During the three years, twenty-four modules were covered by Laura.  She said:
"I found the most fascinating 'Sounds of English'.  It looked at the physiological apparatus involved with the production of speech and examined how individual speech sounds are made.  This module gave me an important descriptive element for further language study in my second and third years and is an essential tool for my career in teaching."
Laura also ran an independent project around the module 'Language and Gender', in which she investigated how St Helenian women in positions of power carry out workplace interaction with men and women.  The aim was to challenge the stereotype that women are not effective leaders when giving directives, running meetings and challenging views.
"I enjoyed this project immensely.  The participants all willingly gave up their time to be interviewed and offered valuable insight into the way they manage and lead. The most exciting trend I discovered was that all the women I interviewed began their careers in teaching.  An inspiration for me, to say the least. I would like to take this opportunity to thank those who participated – your input was beyond what I needed and produced an intriguing investigation, with a pleasing end result."
Laura will now undertake a Postgraduate Certificate in Education (Secondary English) through the University of Bedfordshire.  This will be a School Direct route – having school placements alongside university studies.
Laura added:
"During my interview for this course my passion for teaching was rekindled and my enthusiasm must have come across, as they offered me a place on the spot.
"I would like to thank the St Helena Government for this opportunity – Mrs Wendy Benjamin for starting my journey, my family and friends for always believing in me and encouraging me and the staff and students of Prince Andrew School – who motivated me to pursue this venture."
SHG
11 August 2014