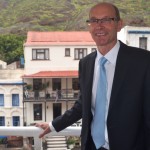 Returns to St Helena after 20 years
Arriving to the Island on 7 July 2014 was new Chief Auditor, Phil Sharman (photo attached). Phil returns to the Island as Chief Auditor almost 20 years after completing his previous four year contract in a similar role.
Phil will be on Island for the next three years and as Chief Auditor his primary function will be to audit and report upon the accounts of Government and state-owned enterprises.
Phil explains:
"The Chief Auditor has a clear mandate to work with the Public Accounts Committee (PAC) and Government to promote public accountability and consider whether value for money has been secured in the use of resources."
An independent and professional public audit function is a fundamental of effective corporate governance across the public and commercial sectors. Supported by a team of nine, one of the key activities of the Chief Auditor is to provide a safeguard over public funds through auditing the accounts of Government and the public sector and undertaking Value for Money reviews, before reporting back to the PAC.
During his first week in office, Phil has been meeting with key colleagues in Government, including some of those he worked with 20 years ago. He has also discussed with his Audit team professional developments and what can be built on and adopted going forward.
Phil said:
"With both professionally qualified and staff undertaking studies, the Audit Office is building capacity and capability in response to the strengthening of audit and accounting standards internationally. There is clear commitment to developing effective audit and Parliamentary oversight across the British Overseas Territories, as underlined recently by the Joint Ministerial Council."
Personally, Phil is very much looking forward to being on St Helena for the next three years. He commented:
"Both my wife and I loved our previous time on St Helena and have maintained an interest in the Island ever since. Our previous time coincided with the introduction of the current RMS St Helena and it was marvellous to sail with her again. It is a privilege to return to make a further contribution to the development of St Helena at another important moment in the Island's history, as the Airport approaches in 2016.
 "Professionally, I am delighted to find that Connie Stevens and Liz March who worked with me previously remain part of the team. Connie is now a professionally qualified accountant and member of the Association of Chartered Certified Accountants, and is Audit Manager which is great.  We are investing in our team and the recent development of the St Helena Audit Service has been ably supported by John Gilchrist, who completes his contract as Audit Executive in July 2014."
Since leaving the Island in 1994, Phil has held leading roles in public audit functions in the Turks & Caicos Islands, the National Health Service in Wales and Scotland, the UK Audit Commission and in New Zealand with the Office of the Auditor General.
Phil concluded:
"I have focussed my career in public audit and have been able to deliver audits around the world in many different sectors. The professional side of the statutory auditor role is vital but it's how that role is delivered which makes all the difference.  I'm really pleased to be able to bring my skills and experience back to St Helena and make a further contribution to the good governance of the Island".
SHG
18 July 2014