From 6-9th September, Prince Andrew School welcomed author, Niall Griffiths, to lead workshops on creative writing. Niall worked with students from Years 7 to 13. In his workshops Niall focussed on the power of the imagination to create ideas from everyday objects and situations. He also encouraged students to think carefully about the language they use to express these ideas in their writing.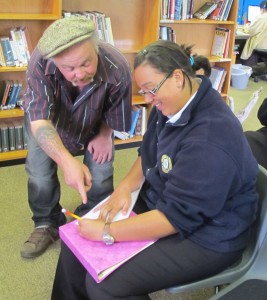 Year 8 student, Chloe Midwinter, commented: " I learned how to use more complex similes and metaphors in my writing. Working with Niall was inspirational!"
"It was fun!" was how Andreas Caesar-Crowie, from Year 7, summed up the workshop that he attended.
Headteacher, Paul Starkie, who attended some on Niall's sessions, said: "Niall has been a great success at school and his accessible approach and enthusiasm has gone down extremely well with all the students he has worked with."
Niall was "writer in residence" on the last voyage of the RMS. He has published seven novels for adults including 'Grits', 'Runt' and 'Wreckage'. His latest novel is 'A Great Big Shining Star'. Two of his novels, 'Kelly and Victor' and 'Wreckage' have been made into screenplays and filmed for television. Niall also writes non-fiction, particularly travel writing, magazine articles and reviews.
He has a wealth of experience in hosting writers' workshops and performing all round the world in places as varied as Inuit huts on Arctic ice-fields and prisons in the UK. He can now add St Helena Island to his list of venues.
Prince Andrew School Students
13 September 2013