In June, the Legislative Council approved the SHG budget for 2023/24. To provide a better understanding of how that money is spent, every two weeks we're focusing on a different Portfolio and their plans for the year. Two weeks ago we looked at the allocation for the Environment, Natural Resources and Planning, and this week we'll be covering the Health and Social Care (H&SC) Portfolio.
The SHG budget for 2023/24 allocated £47,072,000 for recurrent and capital expenditure. Of this figure, H&SC was allocated £8,845,594. This means that of the six Portfolios included in the 2023/24 Budget Book, H&SC receives 19.5% of the SHG recurrent budget.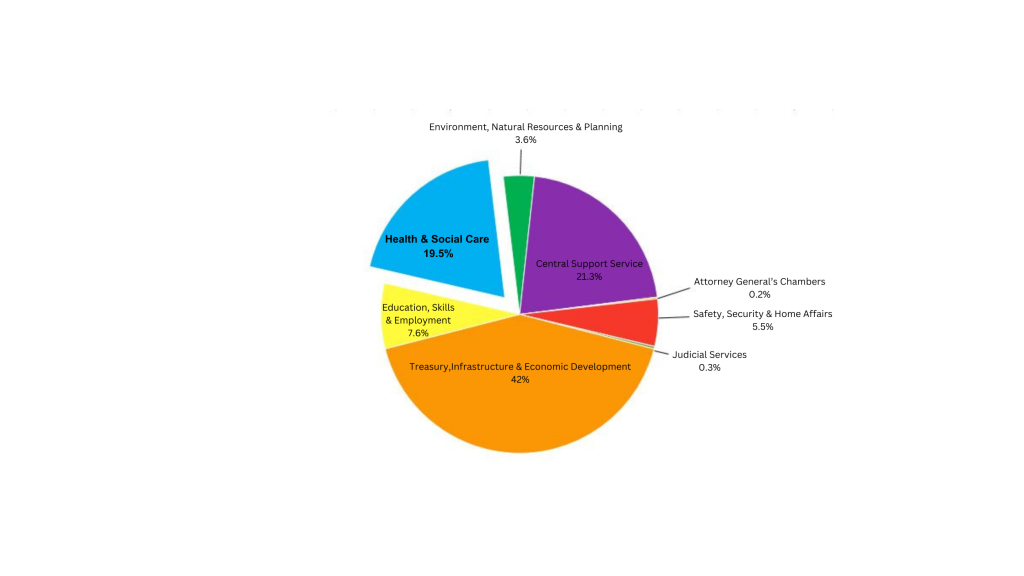 Of H&SC's £8,845,594, £5,335,896 is allocated for Health Care services and £3,509,698 for Social Care services. As a Portfolio this is an increase on the 2022/23 budget allocation of £346,494, or almost 4.08%.
However, it should be noted that the actual spend for 2022/23 was £11,105,000 across the Portfolio, representing a 30.62% overspend on original budget. Overseas medical referrals, treatments and evacuations were the single biggest overspend, accounting for 72.96% of the total overspend.
The Portfolio has 315 staff roles to deliver its range of work.
What are H&SCs strategic aims?
Whilst all Portfolios contribute to the five national goals, expenditure for H&SC's 2023-24 budget primarily supports the national Altogether Healthier and Altogether Safer goals. To deliver this, H&SC work programmes contribute to six of SHG's 33 strategic objectives.
To support these national goals and strategic objectives, the H&SC is pursuing seven main policy priority areas within the SHG Vision and Strategy Plan 2022-2025, which are informing and directing its work programmes. These are:
Delivery of core and preventative health services
Ensuring a Safe Statutory Offer for children and adults
Primary prevention and management of chronic diseases
Promoting healthy lifestyles
Providing access to specialist and tertiary care
Providing evidence based primary and secondary health-care
Providing a health and social care governance system
From a Health Care perspective, the Portfolio recognises through its own data and the Joint Strategic Needs Analysis (JSNA), that three major risk factors are having a significant impact on the population of St Helena and leading to most of the ill health early deaths, and need for overseas referral and treatment. These are smoking, alcohol, and overweight / obesity.
This year, the Portfolio will focus on addressing these risk factors, through the following interventions: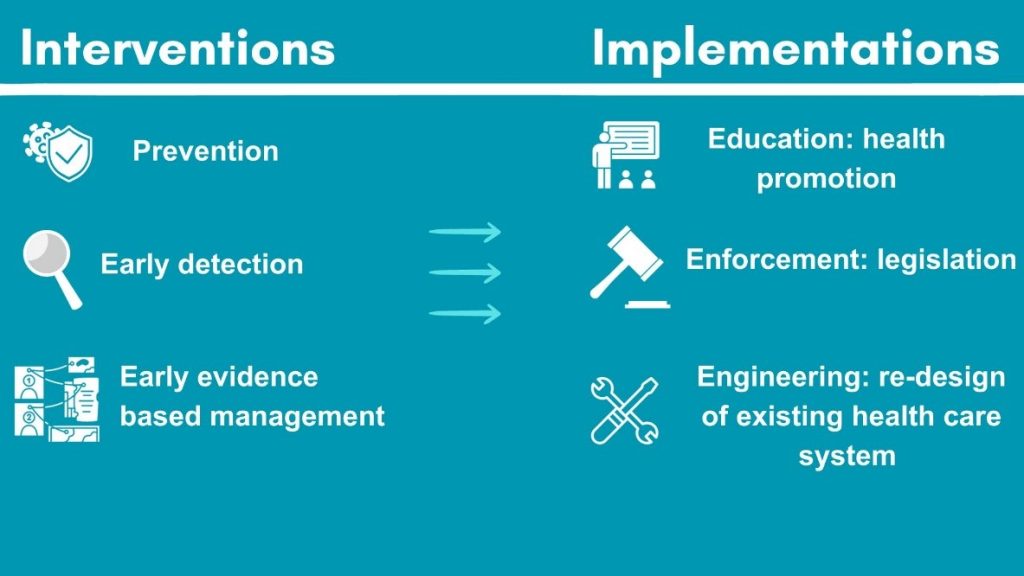 In Social Care the demands on services continue to grow. St Helena has an 'ageing population' due to a combination of a falling number of births, working age people leaving the Island, and increasing life expectancy. In 2021, 1 in 4 people were now aged 65 or older, and 1 in 2 aged over 51.4. In the most recent global data, only one country has a higher median age than St Helena, meaning we have the second oldest median age of anywhere in the world.
This puts an ever growing pressure on Social Care to provide care and support, either in the community, or at one of the Island's care facilities.
For this year, Social Care will continue to try and support more people in the community, and through short interventions, aim to decrease the number of individuals who require full time care, enabling them to remain as independent as possible for longer.
Where will H&SC's allocation be spent?
H&SC is split into two main delivery areas, Health Care and Social Care.
In Health Care, H&SC is responsible for key functions and services related to health and wellbeing. This includes things like providing medical and dental care, making overseas referrals, managing Environmental Health, operating the pathology lab and delivering mental health services.
The Social Care sector is responsible for a range of functions and services for adults and children. This includes the management of care facilities (Deasons, Ebony View, Cape Villa and the Community Care Centre), Probation Services, Adult and Child Services, Safe Haven, as well as Outreach Day-Care and Occupational Therapy.
Currently, the largest planned expenditure for H&SC is overseas medical referrals and treatment, and medical evacuations. H&SC has secured a new overseas medical provider, and whilst this is expected to will deliver improved services whilst decreasing the cost of individual treatments, the demand on overseas medical treatments continues to rise.
H&SCs budget allocation will also cover the routine provision of a wide range of health services. This will include as many as 600 GP appointments per month, providing specialist clinics for surgeons, dietitians, sexual health and gynaecology, maternity, nurse led and child nurse led appointments, community nursing, school nursing, vaccination clinics, screening clinics, outpatient nurse triage appointments, and our mental health provision.
This will be delivered alongside our visiting specialists in areas including audiology, ophthalmology, as well as the Island's accident and emergency provision.
The Social Care Services also support the Children and Adults Safeguarding Board by running monthly safeguarding training, policy and procedural support, early help interventions and much more.
If you would like more information about any areas of the H&SC's work, please get in touch with Tracy Poole-Nandy, Portfolio Director, by email through tracy.poole-nandy@sainthelena.gov.sh or by telephone on 22500.
#StHelena #H&SC #Budget23
www.facebook.com/StHelenaGovt/