St Helena Government (SHG) announced additional charter flights for August, September and December 2021 on 16 July.
SHG is now pleased to offer a 25% discount on the flight scheduled to operate on 21 and 22 August for all new bookings as well as for those passengers who have previously requested seats on the flights operating on 9 and 12 August and 6 and 8 September but who may now decide to travel on the 21 and 22 August flight. The offer is for the London to St Helena and return flight.
This discount means that a return ticket from London to St Helena is £1,425 or £713 one way for the 21 and 22 August flight.
Bookings for the flight on 21 August are open until 6 August. It is not anticipated that this flight will have any payload restrictions and therefore a full baggage allowance along with any requests for excess baggage can be accommodated.
The detailed schedule for this flight is below:
| | | | | | |
| --- | --- | --- | --- | --- | --- |
| Date | Flight No | Departure Time | Departure Airport | Arrival Airport | Arrival Time |
| 21AUG21 | ZT0531 | 0115 Local | London Stansted STN | Accra ACC | 0715 Local |
| 21AUG21 | ZT0531 | 0800 Local | Accra ACC | St Helena HLE | 1210 Local |
| 22AUG21 | ZT0532 | 0900 Local | St Helena HLE | Accra ACC | 1300 Local |
| 22AUG21 | ZT0532 | 1345 Local | Accra ACC | London Stansted STN | 2155 Local |
Bookings
Bookings are on a 'first come, first served' basis. Some seats will be held back e.g. for urgent medical travellers.
To improve the passenger booking process for these flights, SHG has now partnered with the Shipping & Travel Department of Solomon & Company (St Helena) Plc who will take on full responsibility for the customer booking process.
From today onwards, travel requests should be submitted to the Solomons Travel team via email: flight.reservations@solomons.co.sh, telephone: (+290) 22523 or visit in person at the Shipping & Travel Department, the Malabar, Jamestown, between the hours of 8am and 3pm, Mondays to Fridays.
Solomons will also be proactively contacting those passengers who have already sent in their flight booking forms to confirm receipt and any deposit payment.
For those based on Ascension Island, or wishing to travel to or from Ascension Island, please continue to contact the Shipping and Travel Office via email: flight.bookings@ascension.gov.ac.
Please note that SHG reserves the right to change dates of travel without notice even after payment has been received.
Customers wishing to book commercial or government airfreight for carriage on these flights are advised to use an appropriate freight forwarding agent to make the necessary arrangements.
Reminder of all the Titan flights currently timetabled*: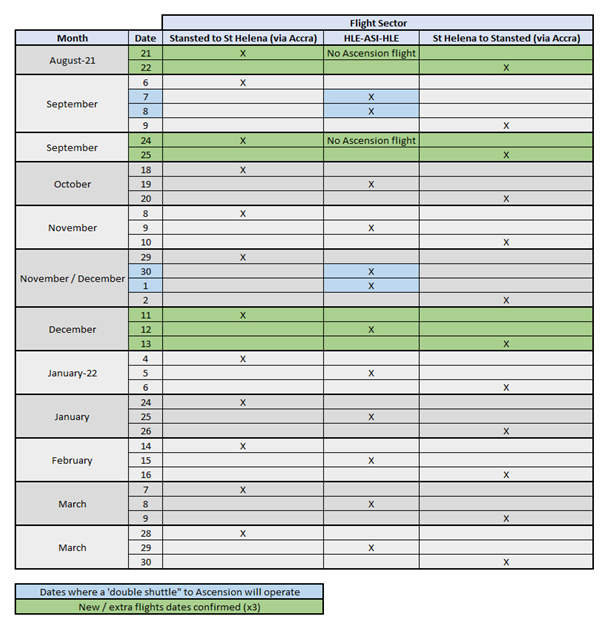 *Days of operation subject to weather conditions at St Helena Airport.
#StHelena #FlightsUpdate #TitanAirways #CharterFlights
https://www.facebook.com/StHelenaGovt/
SHG
28 July 2021