'We must be crazy' writes Captain Jack Long on his blog and who, along with his wife Carolyn and their friends Becky and Josh, arrived in his Pilatus PC-12 (a single propeller plane) at St Helena Airport at 3.22pm on Thursday, 17 January 2019, on their third trip around the world.
The group has flown the Pilatus PC-12 around the world twice – once in an eastbound direction (2015) and once over a very challenging polar route (2016-2017). This third trip is another variation of a 'Round the World' flight – Circumnavigation Westwards – recognised by FAI (Fédération Aéronautique Internationale).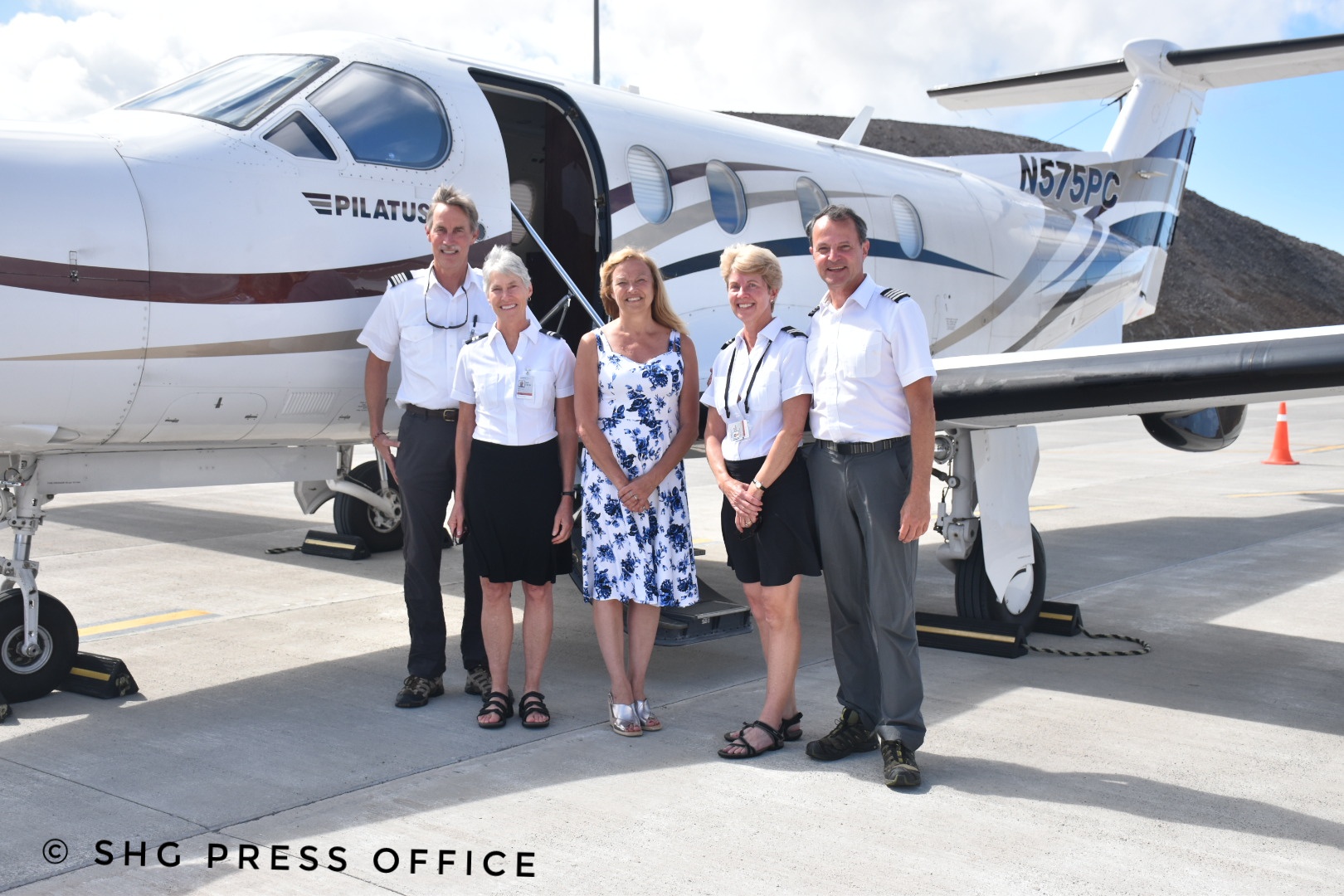 St Helena is one of the stops in the 'grand finale' of Jack, Carolyn, Becky and Josh's epic journey before they return to Austin, Texas where they set out from two months ago.
By the end of their trip, the group will have clocked up around 25,000 statute miles, 20 flying days, and visited places such as Costa Rica, Ecuador, Peru, Chile, French Polynesia, New Zealand, Australia, Singapore, Indonesia, the Maldives, Seychelles, Botswana, Angola, St Helena and Brazil.
Jack said:
"I have a particular fascination with remote, out of the way, unusual places, and St Helena has been a place that has fascinated me for a while. Our stop here was for two reasons – logistical, as we crossed the Atlantic so it was either Cape Verde or St Helena and we've already done Cape Verde, and also because St Helena and the story of the construction of the Airport and the unique challenges with the wind conditions was especially interesting."
Governor Lisa Honan who met the group at St Helena Airport on Thursday to welcome them to sunny St Helena added:
"I was delighted to come out and meet with Captain Jack Long who has today made history because he has brought in the first single propeller plane, and he's also remarkable because he's on his third circumnavigation of the world.
"I've just been out to the apron of the runway and welcomed him and his crew to the Island, Jack Long has a big international following and I hope his followers will see this around the world and it will hopefully spark even more interest in St Helena and what we have to offer."
Jack, Carolyn, Becky and Josh will leave the Island on Sunday, 20 January, bound for Recife in Brazil. Before they leave, the group are hoping to see more of St Helena's spectacular scenery and flora and fauna, the Wirebird, Napoleon's House, Plantation House, and also climb Jacob's Ladder.
Read more about the group's adventures here: https://finaltimearound.blogspot.com/2018/11/and-here-we-go-again.html
#StHelena #StHelenaAirport #RoundTheWorld3.0
https://www.facebook.com/StHelenaGovt/
https://twitter.com/StHelenaGovt
 SHG
18 January 2019