The RMS St Helena, affectionately known as the RMS, made an emotional departure from St Helena Island today, Saturday 10 February 2018, following 27 years of dedicated service to the Island.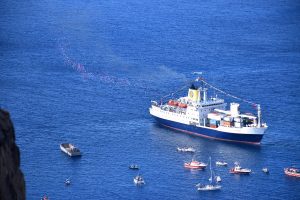 As the ship steamed past the harbour for a final time, many spectators onshore waved banners and flags to bid farewell to the ship. 
The RMS' departure today followed a true St Helenian style programme of farewell events. Island residents came out in the hundreds to say their goodbyes to the crew and the ship, starting on Tuesday evening with a special Thanksgiving Service at St James' Church. The Church was packed to capacity with many people having to stand inside and also outside on the Grand Parade before making their way to the Cenotaph for a Blessing.
Yesterday, Friday 9 February, which Governor Lisa Phillips had declared a public holiday, many people gathered at the Seafront for the main farewell celebrations, while those who were lucky enough to secure a space attended the RMS Open Day and were able to view the workings of the ship for one last time. 
A cake of the RMS St Helena, superbly crafted and baked by St Helenian, Steve Yon, was unveiled and shared amongst the public during the evening celebrations.
The highlight of yesterday's events was the evening performance by the RMS Amateur Dramatics Society as they performed their Final Act of Stupidity much to the crowd's delight. A firework display and release of lanterns rounded off the evening.
Celebrations continued this morning with a poignant parade of the RMS Crew accompanied by the Scouts, Cubs, Beavers, Girl Guides, Brownies and Rainbows from the Canister to the Seafront in Jamestown. A large crowd of people turned out to say a last goodbye to the current crew of the Ship.
Before the Ship's departure this afternoon, spectators were able to access the Landing Steps at the Lower Wharf to witness the carrying of the 27ft 'paying off' pennant (marking the 27 years' service of the RMS) by competition winners and its presentation by Director of St Helena Line, Mrs Kedell Worboys MBE, to Captain Adam Williams.
A spectacular flotilla of 15+ boats including jet skis and yachts circled the RMS while the St Helena Fire & Rescue Service saluted her with a water arch before she pulled up anchor. The RMS then made her way to Buttermilk Point, turned around and steamed past the harbour in full dress.
Farewell RMS and thank you for your 27 years of dedicated service to the people of St Helena.
Further coverage will be provided throughout next week.
#StHelena #RMSStHelena #ThankYou #Farewell
 https://www.facebook.com/StHelenaGovt/
 https://twitter.com/StHelenaGovt
SHG
10 February 2018