Prince Andrew School (PAS) held their annual Celebration of Achievement Assembly, to award students for various accolades and achievements throughout the school year, on Wednesday, 1 August 2018.
Acting Headteacher of PAS, Kerry Lawrence, gave opening remarks and welcomed students, teachers, parents, and invited guests to the event. Governor Lisa Honan then gave a speech where she spoke about the importance of taking advantage of learning opportunities to grow both personally and professionally.
Student President, Shelby Bargo, and Vice President, Keira Francis, took a look back at the events and successes of the school year including the Careers Fair, Athletics Day, students being involved in international games, and PAS students' involvement in the Commonwealth Day debate.
Following a short musical performance from students Jade Leo and Ella-Rose Stevens, Guest Speaker, Alwyn Thomas, took to the mic to congratulate students on another school year and to give words of inspiration and encouragement to those working towards their GCSE and A-Level qualifications.
Those in attendance were also treated to recitals of two students' work. Colby Thomas shared his experience of the Commonwealth Youth Games Opening Ceremony using atmospheric writing and Bianca Isaac shared her piece on Cultures: Then and Now.
The first presentation of the day saw a large group of students receive French FCSE Certificates which were presented by French Consul, Michel Martineau.
Creative Arts Awards were presented by Councillor Clint Beard to Ananda Thomas and Tobias Rummery who had shown great performance and commitment to the school's creative subjects.
Colby Thomas was named the recipient of the Environment & Conservation Award for his work with the St Helena National Trust, the Marine Section, and his involvement with the Island's first International Conference on Diverse Island Environments.
Heart of Gold Awards were presented to Sophie Thorpe, Cheryl Bedwell, Pamela Lawrence, and Christopher Green, for going above and beyond with their work in PAS over the past year.
Citizenship Awards were presented by Councillor Christine Scipio-O'Dean to students who made valuable contributions to the community in various ways during the school year. The recipients for these awards were Demi Benjamin-Herne, Jordanna Stevens, Laura Duncan, and Joshua Herne.
Following another quick musical performance, Outstanding Progress Certificates were presented to students who had shown great dedication, commitment and improvements. Keira Francis was presented with the Sixth Form Award for her hard work and determination within her A-Level studies before another group of students received Academic Achievement Awards.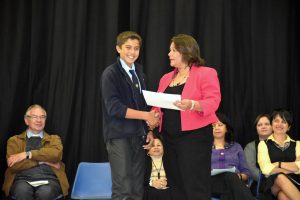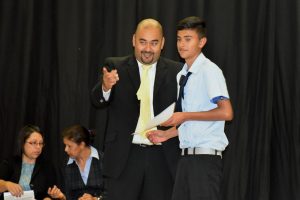 Financial Secretary, Dax Richards, was asked to present this year's Sports Awards. These went to Evan Constantine, Cerys Joshua, Courtney Green, and Josh Fowler, for outstanding commitment to physical education and competitive sport.
The last presentation of the day was for the students of the Year for year groups 7 to 10. These awards went to Jacob Williams (year 7), Radka Henry (year 8), Cerys Joshua (year 9), and Kelly Yon (year 10).
The event was rounded off with a vote of thanks from Councillor Beard where he congratulated awardees and encouraged those who didn't receive an award to work hard and use the day as motivation for next year.
Following a new upbeat version of the Prince Andrew School song, guests and awardees were invited for tea and refreshments in the School's foyer to celebrate another successful year for PAS.
#StHelena #Education #PAS #CelebrationOfAchievement
https://www.facebook.com/StHelenaGovt/
https://twitter.com/StHelenaGovt
SHG
2 August 2018