At a special reception held at Plantation House last evening, Wednesday 7 February 2018, Governor Lisa Phillips paid tribute to the Master, Officers and Crew of the RMS St Helena and those involved in the operations of the ship over the years.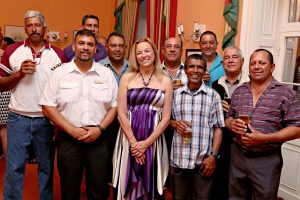 Governor Lisa said:
"I have been reflecting on what the RMS means to me personally, as I'm sure everyone has during this final week.  She has enabled me to visit the other territories for which I am Governor, reunited me with friends and family, given me the chance to do a fantastic job, and her crew and (all three St Helenian) captains have given me wise advice and insights into the Island which have been invaluable. 
"I have boarded her surrounded by strangers and disembarked having found new friends.  Like everyone far and near, I am immensely grateful to her.  She has changed my life. 
"But the RMS is the ship.  It is the crew that is the heart and soul of what the RMS stands for and means to the Island.  It is the crew as well as everyone who has been involved in her operations over the years, to whom we owe a huge debt of gratitude."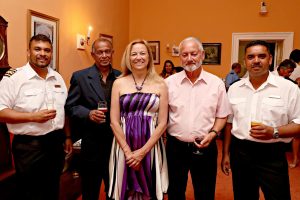 Captain Adam Williams thanked Governor Lisa for hosting the reception and also recognised the dedication of the crew, both past and present, St Helena Line, AW Ship Management ltd and everyone who has been involved with the RMS during her 27 years of service to St Helena.
#StHelena #RMSStHelena #ThankYou #Farewell
https://www.facebook.com/StHelenaGovt/
https://twitter.com/StHelenaGovt
SHG
8 February 2018