St Helena Police' Chief Inspector, Steve Riley, will depart the Island on Sunday, 15 July 2018, having completed his contract with St Helena Government.
Steve, along with his wife Joanna and three children, arrived on St Helena in May 2016. During his two years on-Island, Steve has brought into force Neighbourhood Policing and has helped to train local staff for supervisory and major incident command roles. He has also developed a Police Firearms capability and carried out the Acting Chief of Police role on several occasions.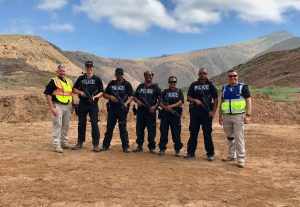 Steve said:
"I want to thank all of my colleagues whom I have worked with over the past couple of years. I think we have achieved a lot together and I wish them every success in the future. On behalf of my family, I would also like to thank the community of St Helena. My wife, children, and I have been made to feel incredibly welcome and over the past two years have made real friendships which will last long after we have gone.
"I will miss the incredible sunsets and the southern skies at night, though I won't miss the country music on a Sunday morning! However timing they say is everything and my lasting reflection of my time here is that I have been incredibly fortunate to have lived and worked on this beautiful remote Island at a turning point in its history."
#StHelena #StHelenaPolice #Farewell
https://twitter.com/StHelenaGovt
https://www.facebook.com/StHelenaGovt/
SHG
13 July 2018