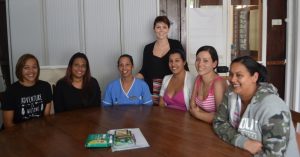 Six St Helenian trained nurses – Annabel Clifford, Donna Clingham, Jayne Adams-Duncan, Latoya Williams, Robyn Bennett and Sue-Ellen Henry – have now successfully passed their first University module, having embarked on a BSc (Hons) Nursing Degree with Derby University in the UK, on Monday 26 September 2016.
The course, studied via distance learning, enables the nurses to select the course content from modules including, Care of the Surgical Patient, Asthma, Diabetes, Leadership & Management in Health & Social Care, Minor Injuries, Advanced Concepts in Palliative Care, Infection Control, and Partnerships in Dementia Care.
Passing the first module – Access onto the Nursing Degree Pathway – demonstrated that the students are able to write academically at the appropriate level required for the course. It also gave them the tools needed to conduct research and present evidence in a specific way.
All students will now progress onto the full Degree pathway which is another four modules, plus a dissertation.
Due to personal circumstances, two of the nurses are deferring for a semester to ensure they have the best support to continue on the course. This is fully supported by the Health Directorate and the University, and will not in any way hinder their progression.
Hospital Nursing Officer, Lisa Rhodes, said:
"I would like to congratulate all students. They have worked incredibly hard, while maintaining full time employment, and have dedicated a huge amount of their own time to completing this work.
 "Although it has been difficult for them, with a few stressful nights and tears, each one has absolutely earned their pass mark. We are all over the moon and very happy for them. It just goes to show with hard work and determination anything is possible."
 Thanks are extended to Practice Development Nurses, Heide Drysdale and Wendy Herne, who have been pivotal in the training, education, support, and guidance of these students through this first module.
SHG                                                                                                                                      
13 January 2017