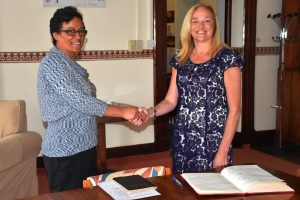 Assistant Chief Secretary (Support), Gillian Francis, was today, Tuesday 15 August 2017, sworn in as Acting Chief Secretary (see photo attached).
Gillian took the prescribed oaths in the Governor's Office and will begin her role immediately following the departure of Chief Secretary Roy Burke on overseas leave. Roy is due to return on 1 October 2017.
Governor Lisa Phillips said:
"My thanks to Gilly for Acting as Chief Secretary. She has already done a great job preparing for and participating in the first ExCo meeting in which we agreed new ways of working with the public and improved transparency."
Corporate Services Executive Manager, Carol George, will take on Gillian's responsibilities as Assistant Chief Secretary (Support).
Gillian's appointment will run until Friday, 15 September 2017.
#ActingChiefSecretary #SwornIn
https://www.facebook.com/StHelenaGovt/
https://twitter.com/StHelenaGovt
SHG
15 August 2017