Crown Counsel (Community Care), Christine Cooper, was today, Friday 22 September 2017, sworn in as Acting Attorney General.
Christine took the prescribed Oaths in the presence of Governor Lisa Phillips and colleagues in the Governor's Office, The Castle. Her appointment is effective immediately.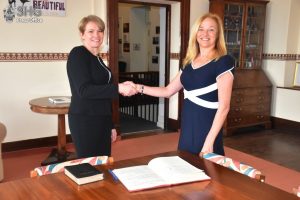 The substantive Attorney General, Angelo Berbotto, departs on the RMS today for overseas business. Angelo will return to the Island in October.
#ActingAttorneyGeneral #SwornIn
https://www.facebook.com/StHelenaGovt/
https://twitter.com/StHelenaGovt
SHG
22 September 2017