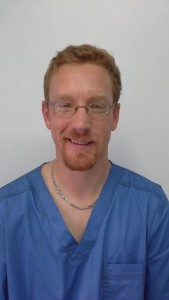 Dentist Peter Schoeman (photo attached) arrived on St Helena on 30 March 2016. Dentist Schoeman, who is here on a two year contract, joins Dentist Wayne Badier and the existing dental team and has been treating patients at the Dental Clinic since the beginning of April.
This is the first time St Helena has had two full-time resident dentists.
Dentist Schoeman commented:
"I was born and raised in South Africa and I hope that being from a diverse and dynamic country has equipped me well enough to assist and partake in the exciting challenges that await St Helena and her people.
"Although my part may be small in the bigger picture of health care development on St Helena, I want to embrace this opportunity to make a difference as best I can."
Peter qualified as a dentist in 2006, at the University of the Western Cape, and has both Private Practice and Community experience.  In 2009 he completed a Post Graduate Diploma in Forensic Dentistry and is a certified Advanced Trauma Life Support (ATLS) provider.
SHG
22 April 2016