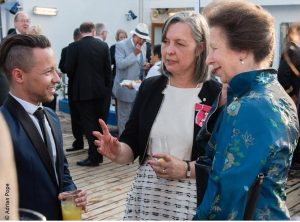 St Helenian student, Neil Francis of Sapper Way (photo attached), has graduated from the University of Brighton with First Class Honours in Finance & Investment.
Neil left St Helena in August 2012 on a Post-School Scholarship to undertake a three year study programme and a year's work placement. Neil's study focused on the lifespan of the investment cycle, providing him with a complete overview of the investment process. Neil's Degree has taught him how to construct an optimum investment portfolio and then how to evaluate that investment and the risk exposure of each investment. He has also learnt how to carry out statistical modelling for risk evaluation purposes.
Neil took an industrial year between his second and third years of study to put into practice some of the theory he had been taught. This also gave Neil a fantastic opportunity to spend a year abroad in the Netherlands, working for the large well-known sporting brand, Nike.
Neil commented:
"To be honest, I am very glad my study is now over. The past year has been very hard with barely any downtime from the moment I started again in September. But all my hard work and late nights has paid off in my results and that is a really rewarding feeling.
 "When I completed my GCSEs I knew I wanted to work in the finance industry. Over the course of the years that have followed I was able to narrow down my preferences to the point where I was able to select my university Degree with confidence."
 Director of Education, Shirley Wahler, added:
"The Education & Employment Directorate congratulates Neil on his excellent results.  This is yet another example of outstanding achievement by our scholarship students and demonstrates the Island's commitment to investing in her young people. Well done Neil!"
Neil is looking forward to having a well-deserved break from study and will return to St Helena once his graduation has been finalised.
Neil concluded with some advice for other students:
"I would say to anyone who is considering applying for a Post-School Scholarship and heading off to University to make sure that you are happy with your choice of Degree. Once it starts, it's a long journey so make sure you are going to be happy doing it for three plus years.
 "On the other hand it is a fantastic opportunity to expand your knowledge in an area you are passionate about and the opportunities for personal development are massive."
 Huge congratulations to Neil from SHG.
SHG
12 July 2016